The Miami Heat traveled to Milwaukee to take on the Bucks last night. Fans in attendance were definitely in for a show full of alley-oops, backboard rattling dunks, and shifty ball movement. Ultimately though, the Heat were the ones able to keep their streak alive by a final score of 106-88.
First Half
The Miami Heat defense showed up in the first quarter of play, holding the Bucks to a season-low 15 points. Hassan Whiteside came to play on both sides of the court, closing the first half with 17 points and 11 rebounds. Miami overall looked like a finely-tuned machine, being very aggressive to the rim and having great ball movement to keep the Milwaukee defense on their toes. The score showed this going into the half, as Miami had the lead 55-44.
Notable Performers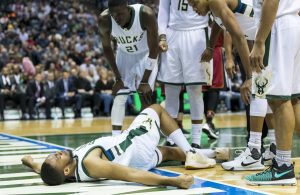 Later in the third quarter, things did not look good for Milwaukee. Power forward Jabari Parker sprained his left knee, which was the same knee Parker experienced his torn ACL injury with back in 2014. Parker did not return to the game. The injury really put fear in the hearts of Milwaukee fans. Bucks small forward Giannis Antetokounmpo did have another explosive night, leading the team with 22 points and 8 rebounds. Sadly, it was not enough to help his team break the Heat's streak. Hassan Whiteside ended the game with 23 points and 16 rebounds, helping the Miami Heat win streak extend to 12 games.
What's Next?
With the win over the Bucks, the Miami Heat improved their record to (23-30) as they continue to climb up the Eastern conference led by the Cleveland Cavaliers. Miami will be traveling to the Barclays Center in New York to take on the Brooklyn Nets. The Nets are currently last in the Eastern conference with a losing record of (9-44). Tipoff tomorrow is set for 7:30 p.m.