The NCAA Football Rules Committee is expected to stick with collaborative replay for the 2017 season. The conferences will not be following the same guidelines this year, but a uniform system could be in the cards for the future.
Different Conferences Different Systems
The SEC and ACC used replay command centers at their headquarters in 2016. The head official would get on a headset and talk with officials back at the command center to get a decision. For the SEC, it resulted in them having the highest reversal percentage in the country.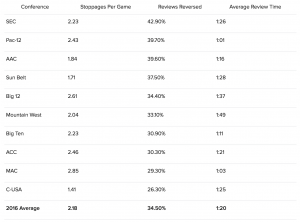 The ACC were not as high at their reversals, but the conference averaged more stoppages per game.
As for the Big Ten, they relied on their head official to make a decision with a tablet in hand. Bill Carollo, head officiating coordinator for the conference, said, "My best people are head referees. That's why they get promoted. That's why they paid a little more money. Using the referee allows better communication to a coach on why a call stands or is overturned."
The Big Ten averaged the same amount of stoppages as the SEC but had a lower average in review time.
Rogers Redding
Rogers Redding is the national officiating coordinator for the NCAA. He joined Steve Russell today on Sportscene and discussed collaborative replay in depth.
It still remains to be seen if one system will be put in place for all schools to follow. The conference will decide on that in the future. The 2017 season will give more light on which systems are more accurate and efficient.