After a scary crash last year that left Dale Earnhardt Jr. with concussion symptoms, Earnhardt is ready to get back on the track this weekend for the Daytona 500.
The Crash
Earnhardt made hard contact with the wall coming out of turn three on July 9 of last year.  This crash was the leading factor to Earnhardt's concussion that kept him out 18 races in 2016.  Fans of the sport were beginning to worry if they would ever see the 88 car back on the track.
Earnhardt spoke to the media multiple times over his hiatus from racing about the concussions that were keeping him from being behind the wheel.  USA Today reported Earnhardt commented on his symptoms during Daytona Speedweeks:
""My eyes were jumping around in my head real bad just riding down the street or in the car. I was scared to death I was going to be stuck with that all my life."
For a NASCAR driver, the fear of never being able to drive is a very serious one. It gave Earnhardt real doubts if he was ever going to be able to return to racing.
The Dale Earnhardt Legacy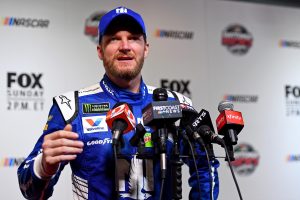 Many are speculating this could be one of the last Daytona 500's that Earnhardt Jr. will be a part of.  Earnhardt is of course already a name that is synonymous with NASCAR. His family legacy is enshrined after his father, the late Dale Earnhardt, who had a storied career and a tragic end.  With Earnhardt now being 42 years of age and entering his 18th full year of competition, he may be entering the twilight of his career.  Earnhardt is a 26-time winner in the Monster Energy NASCAR series. He'll be looking to pick up another race victory this weekend in Daytona.
Daytona 500
Earnhardt will indeed race this weekend in the Daytona 500. He will be the second car from the pole, behind Chase Elliot.  Dale Earnhardt Jr. said, according to Pat De Cola of Nascar.com, that this injury has given him a new outlook on life.
"I think I feel like a stronger, more complete person thanks to her. I hope that this isn't just a mood, that it's more permanent. We'll find out as we just get into the grit of the season, week-to-week and going from track to track and being tugged in all kinds of different directions by my responsibilities. Hopefully this sticks."
The Daytona 500 will take place of February 26 at 2 p.m., and can be seen on FOX.