Nick Horvath and the Florida baseball team showed their versatility and ability to win in different ways Tuesday night in a victory over the UCF Knight 4-3 in Gainesville.
Twice, the junior proved his versatility, moving from the outfield into the pitcher's mound when the team needed it most. Although he said he was prepared for the moment, Horvath's usage was unlike many other players.
Florida led off the scoring with a double from sophomore Blake Reese that brought home junior catcher Mark Kolozsvary, giving the Gators a 1-0 edge. Reese himself would get home off a fielding error from UCF, adding an extra run for the 2-0 lead.
In the bottom of the fourth, Reese made his presence felt yet again with an RBI single that brought home another run.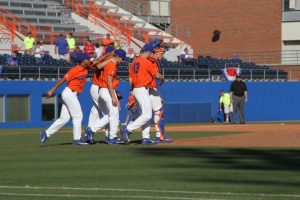 Freshman Nate Brown took to the mound for Florida to start the game, making his second appearance on the year and his first start. The 61 times Brown threw to his catcher, he only gave up three hits while walking two and striking out five. The Knights remained scoreless throughout the first five innings.
However, momentum started to sway in the sixth inning, as UCF finally got on the board. After freshman Andrew Baker took the mound in the top of the sixth frame, the Knights pushed across a run on a couple of singles and a fielder's choice.
The top of the seventh saw a myriad of Knights get on base, either from walks or singles, but UCF would only score one run on an RBI ground out.  With two outs, the Gators brought Horvath to the mound from the outfield and he got out of a jam with a ground ball out.
Florida responded to UCF's offensive fun with a run of their own off the only home run on the game. The blast came from Mark Kolozsvary, who blasted a ball over left center field. The Gators now had a 4-2 lead.
However, the Knights weren't done pushing. A walk followed by a two out run scoring single to center field made the score 4-3 in the ninth inning. Again, Florida put its trust in Horvath.  Facing a full count with runners on both first and second base, Horvath struck out pinch hitter Austin Griffin to end the game to secure the 4-3 win.
Four freshman pitchers saw action on the night against UCF.  UF coach Kevin O'Sullivan said he was encouraged by their performances on the mound.
What's Next
Florida is now 7-1 on the season as is UCF and the two teams will play again tonight in Orlando.   Right hander Michael Byrne is expected to start on the mound for the Gators against the Knigts. You can hear the game live on ESPN 98.1 FM/850 AM WRUF beginning at 6:25 p.m.