The Florida women's basketball program will enter another phase after head coach Amanda Butler was fired Monday after 10 seasons on the job.  Florida ended the 2016-17 season with a 67-48 loss to Texas A&M in the second round of the SEC Tournament last week. The Gators finished the season with a 15-16 record and a 5-11 record in the conference, leading to Butler's dismissal. She was emotional after the loss.
The Losses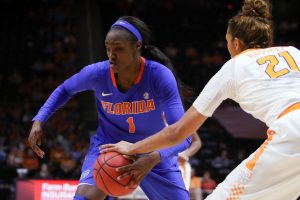 The Gators are also going to have to adjust to life without star senior Ronni Williams. Williams led the Gators this past season with 19.2 points per game on 53% shooting with 7.8 rebounds per game and 2.3 assist per game. The collegiate career of senior Tyshara Fleming will also be coming to an end. Fleming averaged 7.0 points per game on  56% shooting, 6.8 rebounds and 1.4 blocks per game for the Gators this past season.
Ronni Williams too was emotional as her college career came to an end.
What Remains 
Senior guard Simone Westbrook, who's season was lost due to an ACL tear, will return next season for the Gators. Losing Westbrook for the 2016-17 season was a tough blow for the team that thought it could go to the NCAA Tournament.
Other key players returning include freshman guard Delicia Washington who averaged 11.1 points and 5.3 rebounds per game; junior forward Haley Lorenzen who averaged 11.7 points and 6.0 rebounds per game and junior guard Dyandria Anderson who led the Gators with an average of 4.9 assists per game in addition to averaging 7.2 points and 4.8 rebounds per game. These group of players returning with more experience should benefit the Gators next season.
Want to see how much being a Gator means … But get some tissues first … #GatorSisters https://t.co/YWNoxdJ2g9 pic.twitter.com/TswnQM2856

— Gators WBasketball (@GatorsWBK) March 3, 2017
The New Recruits
With the firing of Butler, the Gators must now hold on to a recruiting class that many believed was one of the best Butler had recruited to Florida.  The recruits are:
Mikayla Hayes, a 6'2 forward out of Brooklyn Park, Minnesota Park Center High School
Tameria Johnson, a 5'6 Point Guard out of Ocala, Florida/West Port High School
Karissa McLaughlin a 5'8 Guard from Ft. Wayne, Indiana/ Homestead High School
Priscella Smeenga, a 6'0 Forward from Celebration, Florida/ Celebration High School
Jalaysha Thomas, a 6'2 Forward out of Ocala, Florida/West Port High School
When the class was officially announced, Butler was very excited for its potential.
"This is a very complete group on and off the floor. They all bring something special that is going to give them a chance to make an immediate impact on our team. Each individual meets a need and reinforces our team culture in her own unique way. Our TLC factor went up today. I love who each and every one of them are. Our future is extremely bright!"
Now, however, this group and the rest of the team coming back will be playing with a new coach.  Time will tell if success will come sooner or later, or at all.