For the Orlando Magic, last night's matchup against the Sacramento Kings should've been one in their favor. After back-to-back losses for Orlando, the team looked to refocus versus a Sacramento team that was missing four key players. The Kings sat Ty Lawson, Arron Afflalo and Kosta Koufos for a planned rest night. Additionally, Tyreke Evans was out with a sore left ankle. While Sacramento lacked its key core of veteran players, the Magic still managed to fall short 120-115.
Defensive Lapses lose Magic Close Game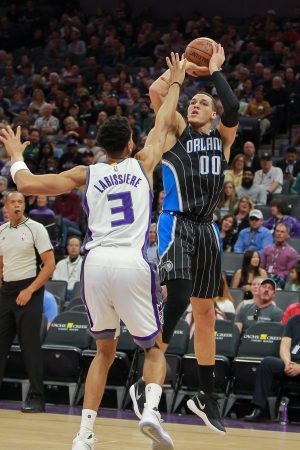 Point guard Elfrid Payton led the way for his team last night with his sixth triple-double of his career. Payton had 13 points, 13 assists and 10 rebounds. He's had the hot hand as of late, this performance was his third triple-double of the season, all of which have come within the last five games. But his individual effort wasn't enough to carry his team past a Sacramento squad that was locked in on offense.
Head Coach Frank Vogel explained that team has been focusing on not allowing anything in the paint. But this came at the cost of allowing shooters free reign from beyond the arc. Payton recognized this and said they should have paid more attention to detail.
The young guard had a valid point as his team could not answer Sacramento's 16 threes. The Kings had seven players score in the double digits. It was a notable showing from the Sacramento as they managed to snap their eight game losing streak.
While the Magic's objective was to limit opportunities on the inside it's questionable if they achieved this goal. Center Willie Cauley-Stein was third in scoring for his team with 18 points and 7 rebounds. Meanwhile, Guard Darren Collison conducted the offense as he had a season high of 13 assists. He added 19 points and 3 steals to his tally. Rookie guard Buddy Hield was incorporated into the starting line up, and contributed 17 points and 6 rebounds.
It should be concerning to see a Magic team unable to contain the Kings, especially when they're missing key contributors. Vogel said they're working hard to make the necessary adjustments on defense.
 Young Magic Team Continues to Struggle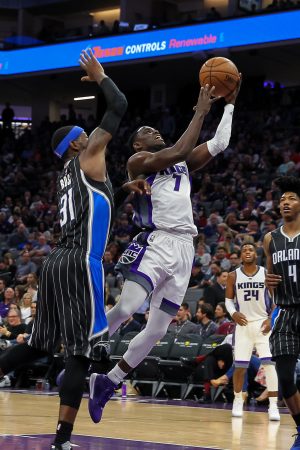 It was uncertain what this season would look like for Orlando. While they're loaded with young, raw talent, would they be a group that could compete in the East? As the season comes to a close, the Magic have the second worst record in the Eastern Conference. They sit with 24 wins, 44 losses, only ahead of Brooklyn in the standings. Additionally, the team underwent some notable restructuring prior to the trade deadline. After this season's results, it's clear that the team has a long way to go.
The most reasonable line of action for the Magic is to try and continue to cultivate its young talent. Wins will come and go, but the growing pains and learning experience will be invaluable for Orlando. Meanwhile, each loss stockpiled will increase their odds for a higher pick when the NBA Draft Lottery rolls around. While this is in the far future, it's the most Magic fans can hope for, at least for now.
But until then, the Magic will have a tough draw against the Golden State Warriors after two days of rest. Then they'll look to close out their road trip on a high note against the Phoenix Suns.