The East Tennessee State Buccaneers clinched their 10th NCAA tournament bid after beating UNC Greensboro in the Southern Conference Championship game. The Bucs were given a 13 seed by the committee, which matches them up with the #4 seed Florida Gators down in Orlando, Florida. Almost everyone is familiar with the Gators, but who is ETSU?
ETS-Who?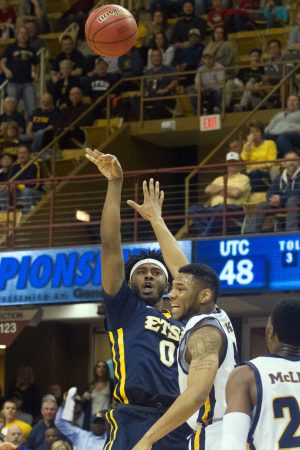 The Buccaneers finished the season with a 27-7 record while going 14-4 in conference play. ETSU Head Coach Steve Forbes gave his team layout for those who are completely unaware of who the Buccaneers are. Before he became the head coach at ETSU in 2015, Forbes served two seasons as an assistant coach at Wichita State. These were two of the best seasons in Wichita State program history.
Forbes' Bucs shy away from the traditional college basketball format in that they currently have only one freshman on the roster. Meanwhile, they have six seniors on the roster. With age comes experience, which usually leads to efficient basketball. This is exactly what ETSU is about, especially on the offensive end of the floor. As a team, they shoot the ball very well and score it at a high clip.
PPG: 79.9 – 41st in Country
FG%: 49% – 13th
3PT%: 48% – 4th
The guy to know for ETSU is T.J. Cromer. On the season, Cromer is averaging 19.1 PPG while shooting 45% from the field and 40% from downtown. Cromer was named to the All-Conference First team, while the Bucs second leading scorer Desonta Bradford earned Third team honors. The Bucs shoot the ball at a very consistent clip, but their scoring is pretty one-sided. Cromer and Bradford are the only two players on the roster who average double-digit point totals on the season.
How Far Can the Buccaneers Go?
The Bucs are coming into the tournament winning 13 of their last 15 games, so it's safe to say the team is rolling. According to Forbes, much of the success is due to the improvements on the defensive end of the floor. Forbes also said there are many similarities between his team and the Gators. Both teams try to force the other into turnovers that lead to easy transition baskets. It may be their first tournament bid since 2010, but ETSU is coming into the tournament ready to pull off some upsets.
@ETSU_MBB is not coming to Florida for vacation they are coming to win basketball games. All begins in 2 days. #BucsOnTopOfGators #ETSUTough pic.twitter.com/qs4nr7Dc8r

— chris timmerman (@ctimmerman35) March 14, 2017