David Sharpe, former left tackle for the Florida Gators, certainly looked to make a statement on his Pro Day. By all means, he made that happen on and off the field. After Sharpe's Pro Day workout, he made it clear to reporters that he is not legally blind in his right eye. This declaration came despite the reports released by the NFL Scouting Combine.
On the field, the 342-pound offensive lineman looked very quick for his size and showed great power in his hands. Sharpe's footwork is also very superior for a guy his size . The uncertainty of where he'll land motivates him to show scouts that he is one of the top choices in the 2017 NFL Draft. Sharpe did not run the 40-yard dash or participate in the bench press at his Pro Day. He was satisfied with the 5.44-second dash and 19 reps at 225-pounds he had at the NFL Combine.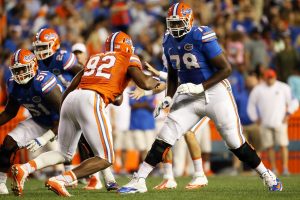 The scouts do have some concerns when it come to Sharpe. He seems a little stiff at times and needs work on staying low at the point of attack. Scouts really emphasized on his power, but his technique will definitely need some work. With some personal training it could all come together for Sharpe though, which is why teams are keeping a close eye on him.
Looking Back
When asked about his old teammates, Sharpe says they have a confidence like no other. Their confidence exceeds the 2015-2016 Florida Gators football team he played on, and the younger guys are really stepping up to fill big shoes. Filling in at left tackle for Sharpe will be Martez Ivey, a sophomore offensive lineman from Apopka. Ivey, a 6 foot 5, 305-pound offensive lineman is Florida's best option for left tackle and is looking forward to the challenge.
For David Sharpe, his future looks bright and promising. Although we don't quite know where he'll land, he is sure to be a promising aspect of any team.