Equipped with new vice president of football operations Tom Coughlin, the Jacksonville Jaguars are looking to make the move to a winning franchise in 2017. The Jaguars finished last season 3-13, giving them the fourth pick in the NFL Draft this year. This was their ninth-straight losing season, but the early pick allows the team flexibility to take a game changing player at number four, or to trade back to amass players from a draft that is deep in talent.
Jacksonville's Needs
If there is one thing the Jaguars can do, it is sign high-profile free agents to Jacksonville. From 2014-2016, the Jaguars spent the most on free agents in the NFL, but that does not mean it will translate to wins. Despite big free agent signings like Julius Thomas and Malik Jackson, the Jaguars only came up with three wins last season. So what do the Jaguars need to do get back into playoff contention?
The Jaguars made big moves to shore up their defense.   ESPN analyst and former NFL coach Herm Edwards looks at their defensive acquisitions of cornerback A.J. Bouye, defensive end Calais Campbell, and safety Barry Church. It is on offense where the Jaguars really need to hit during the draft; their offense ranked 23rd last season, and they need to improve.
Pro Football Focus NFL Draft Analyst Jeff Ratcliffe says the running back duo of Chris Ivory and T.J. Yeldon has not yielded the results the team is looking for. The Jaguars will perhaps be looking at running backs in the draft and that selection could come with the first pick.
Could the Jaguars be searching for a replacement for quarterback Blake Bortles? Bortles struggled last season, and the new front office might be looking to move on from him.
With such an emphasis on teams now to build offensive lines like the one the Dallas Cowboys have, the team could look to shore up their offensive line to give Bortles (or whatever quarterback is starting) more time in the pocket and for their running backs to find holes.
First Round
Now that we have settled their needs, it's time to get to the draft.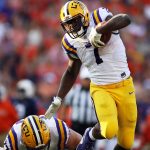 With the fourth pick, the Jaguars will have a lot of options. At number four, it is expected top-tier running backs like LSU star Leonard Fournette and Stanford's Christian McCaffrey will be available. And if the Cleveland Browns don't take quarterback Mitchell Trubisky with the first pick, he could be sitting there at number four.
While the Jaguars may not be looking for a quarterback that early, there are other teams that are. This is where the Jaguars will need to make a decision as to whether or not trading their pick to another team makes sense. The team can horde draft choices and build a young, talented team with those picks.
Herm Edwards says he likes Fournette, but there are also concerns.
Unless the Jags do trade back in the draft, it looks like Fournette could be the pick, but McCaffrey's draft stock is rising fast. He may end up at number four if the Jaguars like him enough.
Second Round
Predicting past the first round, let alone the first five picks, gets difficult. It is impossible to truly know what players will be drafted and who will be available. The Jags will have the 35th overall pick at this spot.
Looking at offensive line talent in the draft, there are going to be some names available, but guard Dan Feeney from Indiana could be their answer. Feeney is a big offensive guard that can really hold his own. A wall with great run-blocking and above-average pass blocking, he can be an immediate starter at the guard position and provide reliability on his side.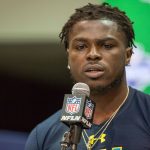 The Jaguars might look at a "best player available" approach, too. With this approach, the team will take a player they think they can't miss at that pick, regardless of position. There are reports of draft stock falling of high-profile athletes like linebacker Reuben Foster and linebacker/safety Jabrill Peppers. Both players reportedly tested positive for a diluted drug test at the NFL Combine. While this does not necessarily mean those players were trying to hide drugs in their system, it does raise concerns for teams that may be looking at these players in the first round. If one drops, the Jaguars, sitting right outside of the first round at number 35, might jump.
Rest of Draft
The rest of the draft gives the Jaguars a chance to take unproven players that can end up being steals. These "sleeper" picks could prove to be starters at some point in their career or reliable backups that can come in on short notice because of an injury.
Many believe the Jags will select a quarterback at some point to perhaps light a fire under Bortles.  Let the young quarterback learn the system, and see what transpires with him and with Bortles.  The New England Patriots did the same thing almost 20 years ago with Tom Brady, and that turned out pretty well.
Jacksonville also needs to take a look at the tight end position. Tight end talent is deep in this draft, and there are starters to be found outside the first and second round. The signing of Julius Thomas two years ago didn't work as planned, and the Jaguars traded him to the Miami Dolphins this offseason. Now, the starter is Marcedes Lewis. A late round pick at tight end could give a little bit more stability at the position, and provide another weapon for Bortles to use.
NFL Draft
Who should your team select in the 2017 #NFLDraft? https://t.co/1tHt8PKtEj pic.twitter.com/LbGSren2eR

— NFL (@NFL) April 24, 2017
The NFL Draft is this Thursday, starting at 8 P.M.