The Oakland Raiders selected David Sharpe with the 129th overall pick. Sharpe will be added to one of the more high-octane offenses in the NFL, tasked with blocking Oakland's newest addition, Marshawn Lynch.
David Sharpe, this six-foot-six offensive lineman weighs in at 357 pounds and is from the city of Jacksonville. The former Gator was added to the list of players who entered the declared early for the 2017 NFL Draft. This Junior offers a lot and ironically, that one thing could be experience.
The Selling Point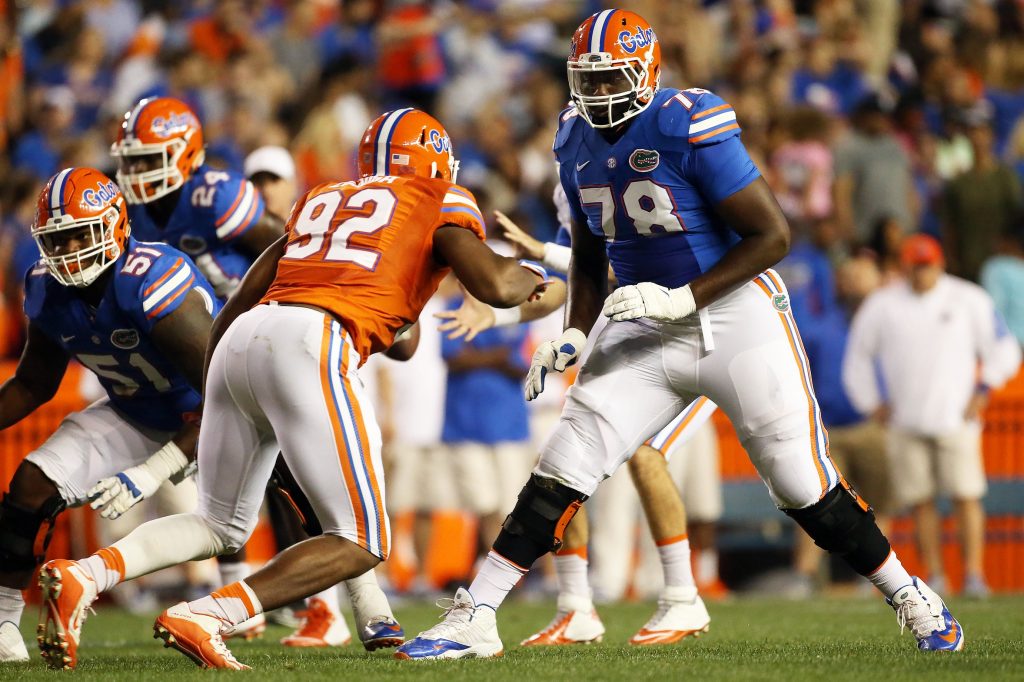 Sharpe lives up to his last name. He is definitely sharp up front on the offensive line, which he could credit  that asset to his amount of playing time in the orange and blue. At left tackle, David started 26 games over the span of two seasons for the Gators. He was one of two players for Florida to start every game throughout the 2016 season. It's impressive he started so many games and skipped out on his senior season. If that didn't turn your head, then what about the fact that he played all 26 games with minimal injuries? He's going to bring a level experience to this offensive line team that could really be a difference maker for this team.
At this position, size matters. Sharpe is clearly a big guy you want up front protecting the quarterback and creating space for a run game. There was a lot of talk around him, at the position, leading up to the NFL Combine. However, Sharpe did not turn heads with his numbers. But a guy his size, his numbers say something. Bench pressing 225, the offensive lineman was able to get that weight up about 19 times. He ranked third in the offensive lineman category, after quick times in the three-cone drill and 20-yard shuttle.
Hello, NFL
David Sharpe left his college career in Gainesville and is now headed to Oakland. He brings a lot to this offense and defenses should have a hard time getting around this guy. It would be no surprise if contributes to the team right away. With his size and knowledge, coaches should move him right into early rotation