The Alachua County chapter of Special Olympics brought four unique athletes together to let them have fun while competing for a chance to make it to the next round of the Summer Games.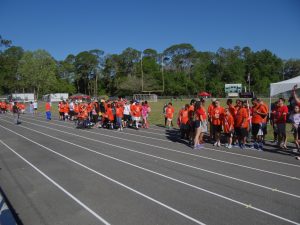 The Florida Summer Games take place at ESPN's Wide World of Sports in Disney.
Athletes from all over the state of Florida will come to play for the opportunity to move onto the U.S Special Olympic Games.
A unique sport in the Summer Games is bocce ball.  Friends and family play bocce ball to spend time together and bond.  The Special Olympics has brought this sport and mentality that comes with it to the athletes who play.
Friends and family play bocce ball to spend time together and bond.  The Special Olympics has brought this sport and mentality that comes with it to the athletes who play.
When you first meet these four athletes, you can tell they are excited to be out and playing the sport.  They're eager to play and even more eager to be with each other and their coaches.
Special Olympics #Florida offers sports training and competition with more than 400 events throughout the year. pic.twitter.com/A8wojlTaS1

— Special Olympics FL (@soflinfo) April 14, 2017
These athletes range in age and experience playing sports with the Special Olympics.
The Team
The team is made up of:
Ella Zsembik, 24 years old.
Jacob Yachabach, 18 years old.
David Clark Jr., 41 years old.
Michael Glowasky, 25 years old.
These athletes compete in groups of two; Ella and Michael play together and Jacob and David play together.
This team meets once a week on Sunday to practice and it's one of their favorite parts of the week.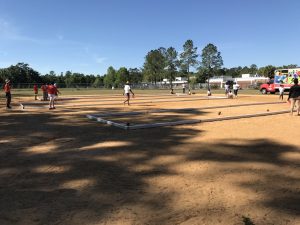 Glowasky says he and his teammates play because bocce is fun.
These athletes are happy to be around each other.  They get to spend a lot of time together while they practice and wait to play at events like the Florida Region Four Special Olympics Games.
Zsembik says she likes playing bocce because she gets to be on this team.
Coaching These Athletes
The team's coaches, Tom Schoenfelder and Erica Huerta, became coaches for the Special Olympics to get involved with the community.
Schoenfelder participated with the Special Olympics when he lived in Philidelphia, and when he moved to Alachua County, he knew he had to continue working with the Special Olympics.
Huerta says everyone on the team is positive.  The team's positive attitudes and love for bocce make coming to practice and seeing them play even more rewarding.
This team not only makes each other happy, they make the coaches smile every practice.
Special Olympics Not Only Benefits the Athletes, It Benefits the Parents Too
Clark Jr. has been to multiple states to compete on multiple teams for the Special Olympics.  His parents have been by his side at every game, cheering him on.
Clark Jr.'s parents, David and Cynthia say without their son, they wouldn't have the life they have.
They got their son involved in Special Olympics because of his love for sports.  He has participated in almost every sport, except swimming.
After every practice, Clark Jr. comes home with a smile on his face.
Special Olympics' Effect on the Athletes
The Florida Special Olympics' mission is "to provide year-round sports training and competition in a variety of Olympic-type sports for people with intellectual disabilities who wish to participate, giving them continuing opportunities to develop physical fitness, demonstrate courage, experience joy and participate in the sharing of gifts, skills, and friendship with their families, other Special Olympics athletes, and the community."
Special Olympics gives athletes like Zsembik, Yachabach, Clark Jr. and Glowasky a chance to just relax and have fun with each other.
The team works all year to be able to compete at the regional qualifiers and go on to the state championships.
The Florida Special Olympics take place on May 19th.
For information on participating or volunteering with the Special Olympics, visit their website.