It's no secret that Tim Tebow has shown much improvement since he started playing baseball again last summer. In 2016, Tebow started out in the Mets Instructional League, then played in the Arizona Fall League. This year, he was given the opportunity to participate in spring training alongside some of the best players in the Mets organization. He then went on to play for the Mets Class A affiliate Columbia Fireflies, before getting promoted to the Mets Class A Advanced affiliate St. Lucie Mets.
High School Days
Like many kids, baseball was Tebow's first sport growing up. In High School, Tebow was considered a Six-Tool Athlete, which makes it easy to believe that if anyone could come back to a sport after 12 years—Tebow could. His junior year, Tebow had a .494 batting average, four home runs, ten doubles and 30 RBI. He also earned All-County and All-State Honors, and was projected to be drafted had he pursued baseball.
Time with Columbia Fireflies
Tebow started playing for the Columbia Fireflies in early April. He greatly increased attendance at home, as well as, away games. In late June, Tebow left the Fireflies having played in 64 games. After 214 at bats, he came away with a .220 batting average and a .336 slugging average. He also had 14 doubles, 23 RBI , 3 homers and a .311 on base percentage.
Good luck in St. Lucie, Tim! #LetsGlow pic.twitter.com/LNXc6qms1T

— Columbia Fireflies (@ColaFireflies) June 26, 2017
Time With St. Lucie Mets
Tebow seems to be getting more comfortable at bat with 4 home runs on the St. Lucie Mets. One of his biggest games came on July 14 when Tebow hit a walk-off home run to help the St. Lucie Mets defeat the Daytona Tortugas 5-4. So far, he's played in 27 games with 87 at bats showing a .299 batting average, .390 on base percentage, and .517 slugging percentage.
Last Series
Tim Tebow's DINGER that tied the game up against the Florida Fire Frogs 2-2 in the 4th. #TimTebow #StLucieMets #FireFrogs pic.twitter.com/jM2PRBocVh

— Sarah Carlie Morton (@sarahcarlie15) July 23, 2017
The St. Lucie Mets just finished up a four game series with the Florida Fire Frogs (the Atlanta Braves Class A Advanced affiliate), where they tied the series 2-2. Tim Tebow played in three of the four games. Where he was impressive on both offense and defense. He caught a number of flyouts from left field and he also hit his fourth home run with the St. Lucie Mets and 7th this year.
Tebow Mania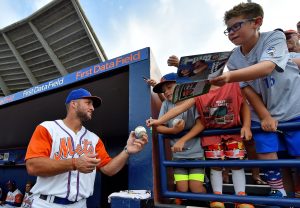 Tim Tebow is definitely drawing more attention to minor league baseball because he is still just as popular with fans on the diamond as he was in college playing football for the University of Florida. Many who wouldn't normally go to a minor league game have been showing up this summer due to Tebow Mania. Tebow shows a great appreciation for his fans by signing autographs and taking pictures both before and after games.
Where to Next
If Tebow is to be promoted again, he would go to the Mets Double-A affiliate team Binghamton Rumble Ponies in New York. After that, his next step could be their Triple-A affiliate team Las Vegas 51s  in Nevada. Finally, he could be off to the big show at Citi Field for the New York Mets.
Next Series
The Next time you can catch Tim Tebow in action will be July 25th-28th, where the St. Lucie Mets will be facing the Bradenton Marauders at First Data Field in Port St. Lucie.