The Jacksonville Jaguars had their first full-padded practice of training camp on Saturday night. Fans and family members of the team filled the bleachers and came with a lot of energy for the players.
Thanks to the 4,015 Jags365 members that came out to #JAXCamp17 on this beautiful Jacksonville evening.

We appreciate you! pic.twitter.com/ZxIYGIwKW8

— Jacksonville Jaguars (@Jaguars) July 30, 2017
Jaguars First Full-Padded Practice
While the Jags came into practice with great energy, there were some tough moments for the team during the practice.
Jaguars defensive end Yannick Ngakque, said the team should be fired up.
"We shouldn't be down because got full pads–we should embrace it. You know because we got to grind now, so it can pay off later. So I feel like we need to be keyed in and locked in when we come out next week and work on technique and just be full speed," he said.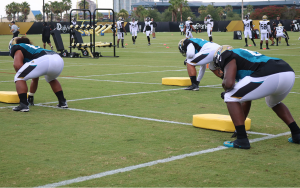 On Saturday night,  the offense struggled for part of the practice. However, they all agree that they are working hard for a long term goal and are continuing to put in all their efforts for the upcoming season. Wide receiver Allen Hurns says the team knows what they need to do in order to succeed. He added the team is together and they are getting the best out of each other.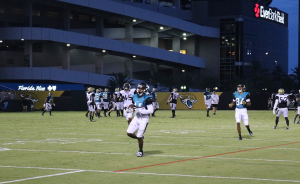 Coach Marrone's thoughts on Training Camp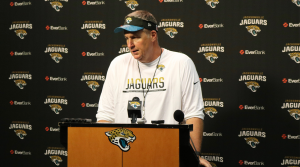 In a press conference after the practice, head coach Doug Marrone stated that he wants the intensity to increase at practice. He also said the coaches are going work on watching film and making better decisions. Marrone added that he hopes for more repetition and endurence in the players' performance.
You can watch the full press conference here:
https://www.pscp.tv/Jaguars/1yNGamyvoagGj
Upnext for the Jaguars
The Jags will continue training for the upcoming season. First preseason game will be on Thursday August 10th against the Patriots in Massachusetts.