Week two's Thursday night game features two teams who are searching for answers offensively. Rookie Deshaun Watson is making his first NFL start for the Houston Texans. Also, Cincinnati Bengals QB Andy Dalton will be looking to bounce back after an awful week one performance.
The start of the Deshaun Watson era
Tom Savage was named the Houston Texans starting quarter back to begin the season but that did not last very long. Savage was replaced at halftime after completing seven of 13 passes for 62 yards. Watson took over in the third quarter and played relatively well, completing 12 of 23 passes for 102 yards and a touchdown.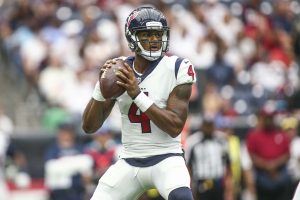 Texans head coach Bill O'Brien chose to go with the rookie because of his mobility in the pocket. Jacksonville sacked Savage six times in the first half of the season opener leading to zero points in the first 30 minutes of play. The rookie out of Clemson wasted no time, connecting with wide receiver DeAndre Hopkins for a 4-yard touchdown pass.
O'Brien says that even though he is starting his rookie QB, he doesn't expect the game plan to change much. 
Texans defense looking to keep the Cincinnati offense in neutral
The Houston defense was solid last Sunday given the circumstances. J.J. Watt and the rest of the Texans defense was not given much to work with considering the team's offensive struggles.
Houston held Jaguars quarterback Blake Bortles to 125 passing yards and a touchdown in week one. What doomed the defense in the season opener was the running game. Jacksonville rookie running back Leonard Fournette rushed for 100 yards and a touchdown in his NFL debut. The team as a whole rushed for 155 yards, averaging four yards a carry.
Bengals still looking for first points of the season
Andy Dalton and the Bengals offense will be trying to forget their week one performance offensively. Dalton had one of the worst games of his career last Sunday in a 20-0 loss to the Ravens as he completed 16 of his 31 passes for 170 yards and four interceptions. The veteran quarterback says the offense has a bounce back mentality heading into the game against the Texans.
Head Coach Marvin Lewis says the reason for Dalton's four interceptions was forced throws. Lewis put it on his QB to make better reads.
Cincinnati trio of backs struggling early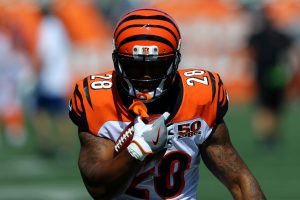 The running game was abysmal against the Ravens as the trio of Joe Mixon, Giovani Benard, and Jeremy Hill collected 77 yards on 22 carries. Mixon who was highly touted coming into this season was underwhelming in his debut as he rushed for 9 yards on eight carries.
Even though Mixon averaged 1.1 yards per carry in his pro debut, his head coach had good takeaways from his performance.
"He's way better than I expected," Lewis said. "He's going to have a fine pro career and he's had one game under his belt now."
The two teams will kick off at 8:25 p.m. from Paul Brown Stadium in Cincinnati and can be watched on NFL Network.