It is fair to say that the Cleveland Indians are the hottest team in baseball.
Last night, the Indians defeated the Detroit Tigers 2-0 to win their 20th straight game. No American League team has won 20 straight games since the 'Money Ball' Oakland Athletics accomplished the same feat in 2002.
Win streak: 20. (!)

Magic number: 5.#WWWWWWWWWWWWWWWWWWWWindians pic.twitter.com/1fAEVDjNyT

— WWWWWWWWWWWWWWWWWWWW (@Indians) September 13, 2017
20 games of dominance
The Cleveland Indians have steamrolled every team in their path on the way to their historic winning streak. In their last 20 games, the Indians have trailed in four of of their 180 innings played. The pitching has been fantastic, from the starters to the bullpen. Cleveland pitchers have thrown seven shutouts during the 20 game span, the recent one coming from Corey Kluber last night.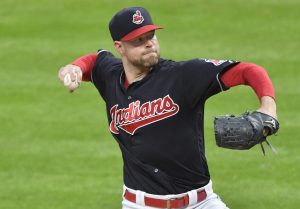 The hitters could not be any hotter as they have outscored their opponents by 102 runs during this historic run. Cleveland has actually hit more home runs (39) than runs given up (32) in the last 20 games.
Before and After
Before the winning streak started on August 24th, the Indians found themselves seven and a half games behind the Houston Astros for the best record in the American League. Cleveland now sports an 89-56 overall record and has the top spot in the American League. The tribe's magic number to clinch a spot in the postseason sits at five.
With his dominant pitching during this stretch, ace pitcher Corey Kluber might be the favorite for the American League CY Young. Kluber has the best ERA in the American League (2.44) and only trails Red Sox pitcher Chris Sale for strikeouts (278).
Different team, same accomplishment
The 2002 Oakland Athletics and the 2017 Cleveland Indians are largely different in pay role. Billy Beane's A's had a total salary of $41 million compared to Cleveland's $124 million. Nonetheless, winning 20 consecutive ballgames is an astonishing achievement.
https://twitter.com/Athletics/status/907784099644923905
The MLB record for the longest winning streak is 26, which was set by the New York Giants in 1916. For now, the Cleveland Indians will be trying to do something the money ball A's couldn't– win 21 games in a row.
The Tribe face off against the Tigers in hopes of breaking the AL record today at 12:10.  The historic game will be streamed on MLB.com and is available for free.