The Florida Gators are on a 30-year win streak against Kentucky's football team. For the Wildcats, last year's 45-7 loss might have been the toughest.
To remind the team of this loss, Kentucky's head coach, Mark Stoops played footage from the game all week long in the locker room.
It's almost time for #UKvsUF in sold out Kroger Field. We can't wait to go to work Saturday #BBN pic.twitter.com/azsuKTUHnC

— Kentucky Football (@UKFootball) September 21, 2017
What's Different About This Year?
For the Wildcats, the 2017 season has been very good so far. Kentucky is coming into the game 3-0 overall and 1-0 in the SEC.
The team is currently tied with Florida for the No. 1 spot in the East.
Kentucky's rushing defense is ranked No. 3 nationally,  only allowing 2.19 yards per rush.
Jen Smith, the Kentucky football reporter for Lexington Herald-Leader, hasn't seen the team look as good as they do this season, ever.
Out of all of the Wildcats' opponents this season, no one has gained more than 63 rushing yards.
This is drastically different from last season's average allowance of 228.2 rushing yards per game.
Kentucky is focusing on defense and the improvements are backed by the numbers.
Kentucky Football radio reporter Jeff Piecoro talked with Stoops about utilizing recruiting players to quickly better the team.
2017 Season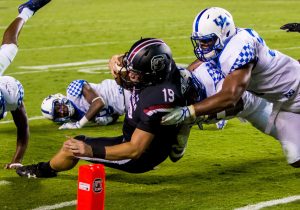 Kentucky has won its first three games of the season. The team played against:
 Southern Mississippi 24-17
Eastern Kentucky 27-16
South Carolina 23-13
The most impressive win in the first three games is against South Carolina.
This is the fourth year in a row that Kentucky beat South Carolina.
According to Piecoro, the win over South Carolina marks a turning point for Kentucky, now in the top half of the SEC East.
Saturday's Game
The game on Saturday against the Gators could be the moment Kentucky comes out on top of the SEC East.
For the first time since 1977, the Wildcats have the chance to be 2-0 in the SEC.
Kickoff is at 7:30 p.m. and the game will be aired on SEC Network.