With Gator wide receiver Tyrie Cleveland suffering an ankle injury in Florida's win over Vanderbilt, he will be out for the upcoming game against LSU. This means sophomore Josh Hammond, along with sophomore Freddie Swain, will have to step up and fill the void.
Cleveland's Impact
Not having Cleveland available for Saturday's game will be a big loss for the Gators. He has 15 receptions for 326 yards on the season — the biggest catch coming on the last play of the Tennessee game when he caught a 63-yard game-winning pass from quarterback Feleipe Franks as the clock expired. Cleveland has also returned five kicks for a total of 118 yards.
Hammond knows it will be hard not having Cleveland for the LSU game, but is confident the team will step up and be able to get the job done.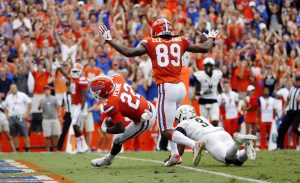 Offensive Turnaround
The Florida offense certainly had its struggles at the start of the season, but it has been steadily improving throughout the weeks. In the season opener, the Gators accumulated a mere 192 yards of total offense and did not score in the second half. But ever since the explosive 4th quarter comeback in the game against Kentucky, Florida's offense has looked more stout, collecting 605 total yards of offense, 467 of which came in its win over Vanderbilt last week.
Hammond credits this improvement to the emphasis the coaching staff has put on communication. He is also pleased the offense is beginning to carry its weight and give the defense a break.
Hammond's Contribution
So far this season, Hammond has only had a small contribution to the Gators' offense with six receptions for 93 yards, and none of these catches took place in the last two weeks. In 13 games last season, Hammond had 14 receptions for 177 yards. There is no doubt he will have to step up and take over Cleveland's role as an impact player. Hammond will have help from fellow sophomore Freddie Swain who has two catches for 38 yards and one touchdown this season.
Taking on the Tigers
After a storied year between the Gators and LSU, the Tigers are undoubtedly going to throw everything they have at Florida. Coming off of a 16-10 loss at home last season that allowed the Gators to clinch the SEC East, LSU will be hungry for a win. Hammond says the team is ready for whatever the Tigers bring and is looking forward to getting the victory. Florida will face off against LSU in its Homecoming game on Saturday at 3:30 p.m. in The Swamp.