On a wild and exciting Friday night of high school football, the Union County Fightin' Tigers defeated the Hawthorne Hornets 31-25 in overtime in Lake Butler, Florida to move to 7-2 for the season. The Hornets, meanwhile, suffered their first loss of the season and moved to 4-1.
Union strikes first, then Hawthorne strikes back
The Tigers got on the scoreboard first when quarterback Brian Scott ran seven yards for the touchdown. The PAT was good, making it 7-0 Union. That would be the only score for the first quarter.
In the second quarter, Hawthorne defensive end Justin Wright sacked Scott in the Union end zone to force a safety, making it a 7-2 game. The Hornets would quickly capitalize on that as running back Devin Lawrence ran for a 50-yard touchdown. The PAT afterward was no good, making it 8-7 Hawthorne. The Hornets added to their score near the end of the second quarter when quarterback Kahleil Jackson tossed a 25-yard touchdown reception to receiver Devonte Bowie. The PAT was no good, making it 15-7. Hawthorne kicker Tyler Barbato later kicked a 30-yard field goal to make it 18-7 Hawthorne to end the first half.
Half stats for Hawthorne; 196 total yards, Devin Lawrence 110 rush, Kahleil Jackson 7 of 16 passing for 86 and 1 TD strike to Devonte Bowie

— Larry Savage (@SunPreps) October 7, 2017
Second-half frenzy and overtime
In the second quarter, Union running back Charles Strong scored on a 23-yard touchdown run. The PAT was no good, making the score 18-13. Scott later scored another touchdown on a run to get the Tigers back in the lead. Again, the PAT was no good, making it 19-18. Strong later scored another touchdown run, this time for 12 yards. With the PAT being no good, it was 25-18 Tigers.
Bowie later caught another touchdown reception. The PAT was good, tying the game at 25. The game then went into overtime, where Strong delivered the final dagger on a touchdown run, giving the Tigers the 31-25 victory.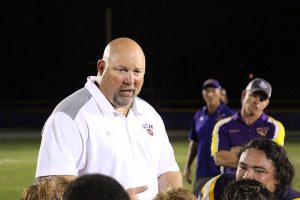 What the coach said
After the game, Union head coach Ronny Pruitt gave credit to the Hawthorne coaching staff for what they've been able to do with their team.
What's next?
Union will  travel to Fort White next Friday to take on the Fort White Indians. The time for that game is yet to be determined. Hawthorne will travel to Chiefland next Friday to take on the Chiefland Indians at 7:30 p.m.