All three Florida NFL teams play this week and face strong opponents.  The Tampa Bay Bucs play on Thursday against the Patriots, but the Jags and Dolphins are both playing Sunday.
Jaguars vs. Steelers
The Jags are traveling to Heinz Field to play the Pittsburgh Steelers. This season, the Jaguars have greatly improved and sitting in first in the AFC South with a 2-2 record.  Sunday's game against the Steelers will show exactly how the Jags have improved, especially since the Steelers' defense is fully healthy.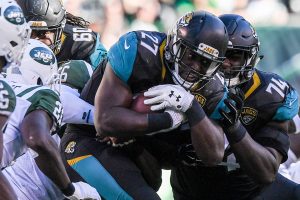 Three key players who've helped the Jags improve this season are:
 Lenard Fournette, running back
Calais Campbell, defensive end
A.J.Bouye, cornerback
Fournette has helped the running and passing game for the offense and he's only in his first year.  He is able to keep the defense occupied when he isn't the one getting the ball.  Fournette has 24 carriers for the season and scored a touchdown in every game. His strong presence on the field keeps the Jaguars going on offense.
Campbell had four sacks in the first game of the season and his strength on defense hasn't stopped there. Last season the Jags had a total of 33 sacks.  So far this season, the team has 18 sacks and lead the NFL.
So far this season, Bouye has six pass breakups and two interceptions. With Bouye's help, the Jags have been able to get their high number of sacks. Another thing Bouye has helped the Jags get is first place in the NFL for pass defense.
Dolphins vs. Titans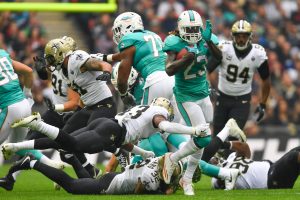 The Dolphins stay at home and will host the Tennessee Titans on Sunday. The Titans physical offense could test the Dolphins' defense, especially when the defense has given opponents an average of 62 first downs.
The Dolphins' offense struggles with third-down conversions this season– only completing 7 out of 33.  Another offense struggle comes in the total rushing yards. The offense gets an average of 199 yards, but the defense allows 233 yards.
The Dolphins' defense could catch a break if Titans QB Marcus Mariota is still hurt this weekend. On Thursday he was still limited in practice, but the Titans are hopeful he will be healthy by Sunday.
If Mariota does not start, back up QB Matt Cassel will start. In Cassel's last game, he threw two interceptions and did not throw for any touchdowns.