It was an all too familiar feeling for Gator fans throughout the first half of the season when wide receiver Dre Massey was nowhere to be found. With only one reception through the first five games, Massey's minimal impact left Florida fans questioning why he wasn't more involved in the offense. Luckily for the Gators, that has started to change in recent games.
Setbacks
Massey was the talk of the 2016 preseason. He was a junior college transfer who possessed many skills the Florida football coaching staff was excited about. But that all changed when he tore his right ACL on the opening kickoff last season. The injury sidelined Massey for the entire season and forced him to wait until the following year for his shot.
After rehab and a lot of time off, the hype surrounding Massey returned at the start of this season. But Massey has mostly been a non-factor for the majority of the season so far. Instead, freshman Kadarius Toney, before going down with an injury of his own, took on the role Massey had been expecting to play.
"In camp he was kind of slow learning, but he's definitely gotten the gist of it now going through the game plans," receiver Josh Hammond said of Massey. "Speed's still there. The only thing I would say that probably he was hindered all through camp, he was still kind of scared of his knee a little bit."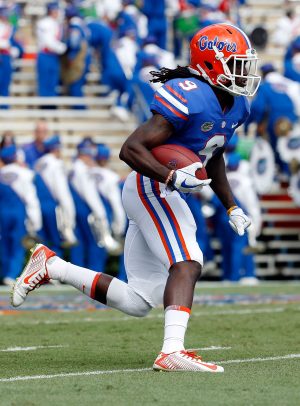 Breakthrough
Going into Week 11 of the season, Massey seems to finally be a contributing factor to the Florida offense. During last Saturday's game at Missouri, he earned 75 receiving yards. Massey believes this was a big step forward for him and hopes this type of play continues as he prepares to take on the Gamecocks in his home state of South Carolina this week.
The Missouri game allowed Massey to show the coaching staff that he is still the same player he has always been. He wants to make them feel comfortable with calling more plays designed for him.
The quarterback switch may also have been beneficial for Massey. He has had great chemistry with graduate transfer Malik Zaire ever since he arrived on campus, and they definitely seem to click on the field.
"He's good at getting the ball out of his hand quick and putting it where it needs to be," said Massey.
Massey cites then defensive coordinator Randy Shannon as one of the motivating factors in his decision to leave home and play at Florida. Now playing under Shannon in the role of interim head coach, Massey will try to pick up where he left off last week when the Gators face the Gamecocks at noon on Saturday.