UCLA freshmen LiAngelo Ball, Cody Riley and Jalen Hill spoke in a Wednesday press conference for the first time since returning from China after a weeklong detainment.
They are back from China, but not back with the team. Despite avoiding imprisonment, the trio isn't out of hot water yet.
UCLA head coach Steve Alford announced that Ball, Riley and Hill have been suspended indefinitely and will not travel with the team.
"At some point, they may be permitted to join team workouts, practice and meetings. But, that timeline has yet to be determined," Alford said.
What They Said
Cody Riley
First to speak was forward Cody Riley.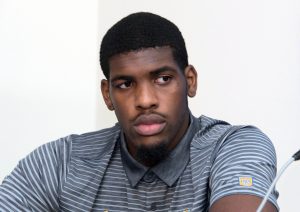 "I want to start off by saying how embarrassed and ashamed I am for disappointing my family, my coaches, my teammates and the entire UCLA community," Riley said. "I feel terrible, and I'm sorry to everyone who I let down."
He also thanked all of the PAC-12 representatives who offered support along with the members of the UCLA athletic department who stayed with the players and assisted them.
"I take responsibility for the mistake I made: shoplifting," UCLA basketball player Cody Riley says in press conference upon return from China https://t.co/MCkbQFPeJ6 pic.twitter.com/wNQ1VP83If

— CBS News (@CBSNews) November 15, 2017
Riley went on to express his gratitude for his teammates, coaches and family for supporting him throughout his life. He then had a specific message for his younger brother.
"To my younger brother, Ben: This is not the example that I want to set for you," the Kansas City native said. "But, from here on out, I promise to be the best role model I can be for you to look up to."
Riley said he wanted to be a UCLA Bruin since he was young and expressed his disappointment as a student athlete for failing to live up to the athletic and academic standards set by UCLA's alumni.
He said he hopes his hard work on and off the court over the coming weeks can help show that he is capable of meeting such a standard.
"I can assure that I will never do anything again to jeopardize UCLA's reputation and my own," Riley said. "Go Bruins. Thank you."
LiAngelo Ball
The guard was the second of the three players to speak.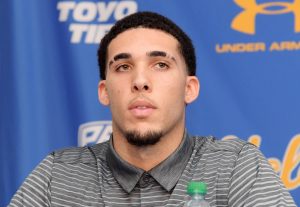 He began his statement by apologizing for stealing, and said he was wrong for not exercising his best judgment. He then apologized to his family, coaches, teammates, UCLA and the people of China for the trouble he caused.
"I'm a young man, however, it's not an excuse for making a really stupid decision," Ball said. "…and I've learned my lesson from this big mistake and I'm 110 percent sure that I will not make a bad decision like this one again."
Ball went on to thank the Chinese authorities for the treatment they showed him even after "making a stupid decision." He also thanked Chris Carlson, UCLA's associate athletic director, and Doug Erickson, UCLA's director of basketball administration, for staying and helping the trio in China.
Jalen Hill
Lastly, forward Jalen Hill followed Ball. His statement echoed the same regret and gratitude as Ball's and Riley's statements.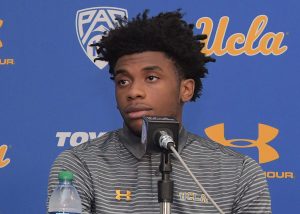 "First off, I would like to apologize to all of the fans who support UCLA because I feel like my actions have hurt them the most," Hill said. "It hurts me because I can see the pain that I caused them."
He also apologized to his teammates, family and coaches for the negative attention he "put on them" that he said they did not deserve.
"What I did was stupid," UCLA basketball player Jalen Hill says after returning from China. "There's just no other way to put it." https://t.co/MCkbQFPeJ6 pic.twitter.com/z4uQ1dRZeZ

— CBS News (@CBSNews) November 15, 2017
Hill said the event had an inexplicable change on him and left him with more respect for everyone around him from his coaches to UCLA's fans. He said he hopes the fans can forgive him and what he described as his "stupid, childish actions."
"I've learned my lesson, and I hope that I can win back the love and support that our passionate fans bring to this program," Hill said.
UCLA's Jalen Hill thanks everyone involved in helping him and his teammates return from China, including President Trump. pic.twitter.com/nUqobXtX2t

— Sports Illustrated (@SInow) November 15, 2017
What Was Said About Them
Analysts and sports pundits offered their opinions on the situation.
Seth Greenberg, a college basketball analyst for ESPN, said his first reaction was happiness that the three players are safely back on U.S. soil. However, he also wants the trio to be remorseful.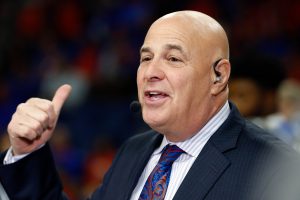 "This was an international incident," Greenberg said. "If they weren't athletes, would they have gotten that same type of support in a similar incident? I don't think so."
ESPN legal analyst Ryan Smith also gave his opinion. He said it could have been a bad situation if not for the host of people who intervened on their behalf.
"I hope these young men understand the gravity of the situation," Smith said.
Lonzo Ball, LiAngelo's brother, said he didn't seen or spoken to his younger brother after he returned.
"It's nice to have him back," said the Lakers point guard. "Obviously, he made a mistake but you got to learn from it and move on."
"It was an egregious mistake and I would expel them." —@ColinCowherd reacts to UCLA's punishment of LiAngelo Ball, Cody Riley and Jalen Hill pic.twitter.com/hDYSQvZZc2

— FOX Sports (@FOXSports) November 16, 2017
Although, ESPN's Jeff Goodman said on Tuesday that Ball, Riley and Hill will not be dismissed from the team.
Time will tell when the three players will be back and how this situation will affect them on and off the basketball court.