It's been a tough season for the Gators, but they will take the field one last time as they take on in-state rivals Florida State at noon on Saturday. Although there is not much left to play for, sophomore Josh Hammond is looking forward to playing for the seniors.
Senior Send-Off
Despite it been a disappointing year, the seniors on the team have one last chance to put on their Gator uniforms and attempt to take down the Seminoles. To underclassmen like Hammond, the seniors have had a huge impact on their football experience. This is why they will play with the seniors in mind on Saturday, adding extra incentive to an already heated rivalry game.
Hammond noted fellow wide receiver Brandon Powell's influence, in particular, on him during his time at UF and how thankful he is to have had him as a teammate.
Hammond also stated there will be more on their minds Saturday than trying to eliminate FSU from bowl contention — the Gators will be fighting to send the seniors out on the right note because they deserve more than they've had this season.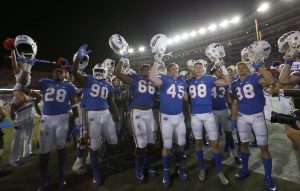 Ending on a High Note
The Gators will try to finish strong after a season that has had its share of low moments. Through all the ups and downs, the players still love to play football and wish it could continue year-round. Hammond spoke to this feeling and how it will motivate them to play hard this weekend.
As the season comes to a close, the team has taken on the mentality of wanting to have more fun. After going through hard times and a lot of stress, they've decided it's important to stop thinking about everything and just come together to play the game.
This new state of mind has even led to a string of emoji tweets that raised many questions from fans and followers. While at one of their teammates' homes, several players decided to all tweet out the same single emoji. With all the chaos surrounding the coaching search, many thought there might be a deeper meaning behind the tweets. But as it turns out, it was just something the players wanted to do to have a little fun with each other and keep the mood light.
With Thanksgiving nearly here, the Florida players will be headed home to their families or to their coach's house for dinner. But once everyone returns, fans will get to see just how much this new mentality affects the players' performance.