After being gone for some time, Tiger Woods made an impressive return with his first round of competitive golf in almost a year.
Welcome back @TigerWoods #heroworldchallenge pic.twitter.com/iMUgMHQNEl

— Hero World Challenge|TGR Live (@TGRLiveEvents) November 30, 2017
During the first round of the Hero World Challenge at Albany, Bahamas, Woods shot 3-under-par 69. He hit 7 out of 13 fairways, 12 out of 18 greens and only needed 28 putts. He also had five birdies and two bogeys.
Woods, who is also a five-time Hero World Challenge champion, expressed how it felt to be back after the difficulties he has been through.
And going into this tournament, Woods didn't know what to expect.
"I didn't know what I could do," Woods said. "I've been playing golf, I've been playing a lot of holes at home, but it's a little different when you got teed up in a tournament."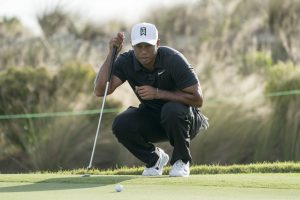 Recap of Year
However, some could say the last ten months have been subpar for Woods.
In April of this year, he had his fourth back surgery, which hindered him from fully swinging for six months due to the spinal fusion. Then in May, he had a DUI arrest which stemmed from pain medications.
After that, and as reported by Radar Online, Woods went to rehab to focus on his addiction to prescription pills.
What's Next?
Round 2 of the Hero World Challenge begins today with Woods teeing off at 11:43 a.m.