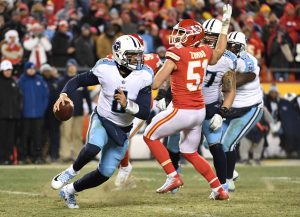 The Tennessee Titans rallied to top the Kansas City Chiefs in the 22-21 win that kicked off their 2017 playoff run. Saturday's victory has Titans starting quarterback Marcus Mariota to thank, as he leads the team to three touchdowns in the second half. Mariota says the secret to Tennessee's success is the team's focus on the end goal, saying,
"We don't listen to what's going on outside. We just gotta focus on each other, focus on how we together can accomplish our goal."
The threat of the Patriots
Moving forward, the Titans look for another upset in this weekend's game against the Patriots. Former Gator and Titans Head Coach Mike Mularkey know that New England presents a challenge in several ways. He notes that Rob Gronkowski poses a threat, commenting, "he's a little more involved in the run game. This is a guy that can block a point like a point of attack tight end and then beat you down the middle just as easy." Mularkey also mentioned that New England starting quarterback Tom Brady's speed in getting the ball out of his hands is something for the Titans to keep in mind.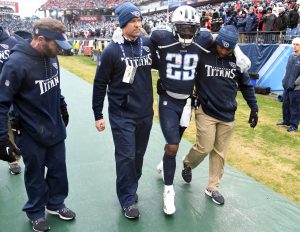 Other factors to consider in Saturday's matchup
On top of all this, Tennessee is coming into Saturday's game off of an exhausting game against Kansas City. Meanwhile, the Patriots have had their rest since they started the playoffs with a bye week.
Rex Burkhead's recovery from a knee injury and rumors of James White's return to the field for the Patriots after his ankle injury will strengthen New Englands running game. Additionally, the Titans will be missing running back DeMarco Murray yet again due to his knee injury.
The New England Patriots' historical dominance over the Titans only adds to the pressure for the Titans to come out on top this weekend. In the last six matchups between New England and Tennessee, the Titans have failed to come away with the win.
Titans vs. Patriots Kickoff
This weekends matchup kicks off at 8:15 p.m. on Saturday in Gillette Stadium.