Georgia Bulldogs' own, Todd Gurley, was the focal point of the Los Angeles Rams offense in their first winning season since 2003 and their first playoff run in Los Angeles in 28 years and he's just getting started.
Rams Shock the World
Coming into the 2017 NFL season after going 4-12 in 2016, it'd be hard to find anyone who thought the Rams would compete. Even after the promising hire of Head Coach Sean McVay, the likelihood of the Rams going to the playoffs seemed slim.
Gurley put his trust in McVay early, saying McVay seems like a "players' coach" that's ready to win and that he's ready to work hard and win with McVay and it showed during the season.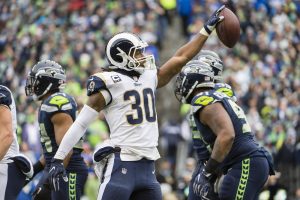 The former tenth overall pick scored two or more total touchdowns six times, ran for 100+ yards in six games and tallied 45 or more receiving yards in nine games. He also had 6 receiving touchdowns on the year despite never catching a receiving touchdown in his professional or collegiate career at Georgia.
Gurley said he noticed the teams' turnaround in their first regular season game against the Colts. "You just knew something would be special."
The Rams were beating teams by such outrageous margins, McVay got to rest his star players. In a postseason interview, Gurley noted how rare in-game resting is in football. "There were 3 or 4 games where I didn't play in the fourth quarter or sat out close to the end, which doesn't happen at all in the NFL."
Early Track to Greatness
Todd Gurley has become a household name in terms of running backs in just three seasons. His resume competes with the best of the best despite his budding career:
Two Pro-Bowl Appearances
NFL Offensive Rookie of the Year (2015)
PFWA All-Rookie Team (2015)
Second-team All-Pro (2015)
NFL Rushing Touchdown Leader (2017)
NFL Scrimmage Yard Leader (2017)
First-team All-Pro (2017)
https://twitter.com/RamsNFL/status/958729816932417536
His stats speak for themselves, but when you watch him play, it's clear that the MVP candidate is nowhere close to reaching his ceiling and that Coach McVay will continue to get the best out of him in his second season as Head Coach.
Looking Onward
The end goal is always a championship in the world of sports. Consistently competing at a championship level takes more than talent and effort and it certainly isn't given. Cam Newton and his 2016 Panthers team is the perfect example of that.
Looking forward next season, Gurley sounds like a seasoned veteran and is ready to take the steps it takes to win a Super Bowl in 2018:
"You always gotta have a little luck. Come into work every day with the mindset of just getting a little better every day and learn from your mistakes."