The Orlando Magic lost their third game this season against the Chicago Bulls 105-101.
Bulls Blew an 18-point lead
With a little over eight minutes left in the quarter, the Bulls were 18 points ahead of the Magic when Orlando made a comeback to tie the game 101-101. Then, in the final countdown, Zach LaVine was able to save the day with an inbound steal and then a slam. He also knocked down two free-throws, securing a win for the Bulls. LaVine says, "Sometimes, ugly wins, you need them. We got to stop giving up leads."
Zach LaVine​ talks the steal and dunk that helped seal the game in tonight's win over the Magic on Inside the Locker Room, presented by @CinkciarzPL. pic.twitter.com/bprzNoGnA1

— Chicago Bulls (@chicagobulls) February 13, 2018
In addition to LaVine's spectacular finish, Lauri Markkanen also secured 21-points for the Bulls. Despite blowing an 18-point lead, the Bulls have won their last two out of three games. Currently, the Bulls have an overall record of 20-36. Their next test is against the Toronto Raptors on Wednesday, Feb. 14.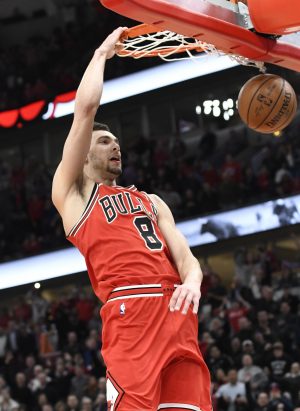 From the Magic's Perspective
In the fourth quarter, the Magic were down 93-75 when Orlando went on 16-1 lead by Mario Hezonja who in that stretch, locked in 9-points for the Magic.
https://twitter.com/OrlandoMagic/status/963248344196960258
Hezonja scored his game-high of 24 points with 14 of those coming in the fourth quarter. After he got the team a 98-96 lead with just minutes left in the game and an exchange of baskets, the Magic tied with the Bulls 101-101 when Orlando made a critical error.  Jonathon Simmons led a bounce-pass that was intended for Shelvin Mack, but Zach LaVine got the ball and made a dunk and that was the end for the Orlando Magic. Despite a tough loss, Evan Fournier locked in 22 points for the Magic.
Head coach for the Orlando Magic, Frank Vogel, says, "Our whole team is fighting and you come back from down 18 to take the lead, you know, you got to be proud of that."
.@OrlandoMagic Frank Vogel breaks down Orlando Magic's loss to the Chicago Bulls Monday night. #PureMagic #NBA pic.twitter.com/JnScdanEXD

— FOX Sports Florida (@FOXSportsFL) February 13, 2018
The Magic will be back home on Wednesday, Feb. 14 to host the Charlotte Hornets.