It's been 16 years since the Choctawhatchee Indians boy's basketball team advanced this far in the playoffs. After trailing the Gainesville Hurricanes for most of the game, the Indians found their rhythm and never looked back, stunning the Gainesville crowd by advancing to their first state semifinal appearance since 2002.
Hurricanes get off to fast start
Gainesville wasted no time pumping up the home crowd, scoring the game's first seven points. Those points were provided by Jaden McCay (two points), Christian Miller-Cardwell (three points) and J'len Wilson (two points). Choctawhatchee, who was visiting from Fort Walton Beach, Florida, finally got on board when senior power forward Aron Scott scored the team's first two points. The Indians also got contributions from Diante Smith, Joshua Williams and Xavier Cain-Fuller in the first quarter.
The Hurricanes were a half-step ahead of the Indians as the first half continued. The Indians, however, refused to go away as they were constantly in the faces of the Hurricanes and made them work for every basket. Gainesville ended the first half up 29-25.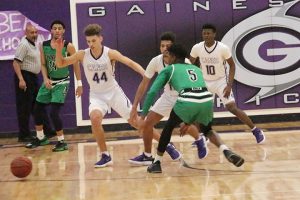 Indians kick it into gear in the second half
This was a game that looked like it was going to be dominated by Gainesville as the Hurricanes were up by nine at one point (27-18). But the Indians kept their composure and kept battling. In the second half, after trailing from the beginning of the game, the Indians tied the game at 40. They would not trail for the rest of the game after that, winning it 54-52.
FINAL: Indians survive Gainesville 54-52. @ChoctawHS is going to the Final Four. @FHSAA pic.twitter.com/U7zHajDME3

— Sam Grubenhoff (@GHoffNWFDN) March 3, 2018
 Individual Performances
The star of Choctawhatchee was Scott. The senior power forward led the Indians with 24 points and was a nightmare defensively. Miller-Cardwell was arguably the best player on the floor for the Hurricanes, scoring 14 points including four threes.
What's next?
The Indians will face the Hillsborough Terriers March 9 in Lakeland, Florida for a chance to play in the 7A championship. A time for that game is yet to be determined. Indians head coach Andy Thigpen declined to be interviewed.