On Sunday night, the Mississippi State Bulldogs found out their postseason fate. They are a four seed in the National Invitation Tournament and will host fifth-seeded Nebraska Wednesday night at 9:00 ET. If the Bulldogs defeat the Cornhuskers, they would face Baylor or Wagner in the second round.
https://twitter.com/HailStateMBK/status/972996106052423680
The Bulldogs compiled a 22-11 record in 2017-18, including 9-9 in SEC play, good for seventh in the conference standings. The Bulldogs were eliminated from the SEC Tournament by Tennessee, 62-59, in the quarterfinal round. ESPN projected that the Bulldogs needed to make the SEC Championship Game to receive an at-large bid to the NCAA Tournament.
Mississippi State is led by junior guard Quinndary Weatherspoon, who averaged 14.8 points per game and 5.8 rebounds per game. The league's coaches voted Weatherspoon to the All-SEC second team.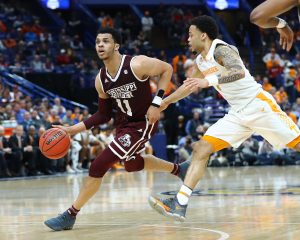 Bulldogs' Postseason History
The Bulldogs' NIT bid is the ninth in school history. Between the NIT and NCAA Tournament, MSU is 18-18 all time in the postseason. The Bulldogs' best finish in the NIT came in 2007 when they lost to West Virginia on a buzzer beater in the semifinals.
Additionally, the Bulldogs will make their first postseason appearance since participating in the 2012 NIT.
Howland says that, while the NIT is not the tournament the Bulldogs wanted to be in, postseason experience is crucial and helped a few of his previous teams take a big step forward the following season.
Another Howland Rebuild
Howland has a track record of quickly turning around struggling programs.
Howland's first head coaching job came at Northern Arizona. After recording fewer than 10 wins each of his first two seasons with the Lumberjacks, he led the school to three consecutive 20-win seasons and its first NCAA Tournament birth.
At the University of Pittsburgh, Howland set the school record for wins in a season and guided the Panthers to back-to-back Sweet 16s.
However, Howland is best remembered for his 10-year tenure at UCLA. He led the Bruins to seven NCAA Tournaments, three Final Fours, a national championship game and four Pac-10 championships. John Wooden is the only other coach to have led the Bruins to three consecutive Final Fours.
Mississippi State hired Howland in March 2015 following his firing at UCLA. He appears to be on the verge of completing another tremendous rebuilding project. The Bulldogs' 22 wins in 2017-18 are the program's most since the 2009-10 season.
Howland says he is proud of what his team accomplished given its youth. There are no seniors on scholarship and he is excited for the future of Bulldogs basketball.
If history is an indication, fans can expect Howland's Bulldogs to be a consistent presence in the NCAA Tournament in the coming years.