The Women's NCAA Tournament Bracket was announced on Monday. The four No. 1 seeds are Connecticut, Notre Dame, Louisville and Mississippi State. The Bulldogs will make their first No.1 seed appearance in the tournament in their school's history.
https://twitter.com/HailStateWBK/status/973347413204156418
There are seven SEC teams representing the conference for the tournament: Mississippi State, South Carolina, Tennessee, Georgia, Texas A&M, Missouri and LSU. The top four seeds in each region will host the first two rounds. Following, the teams who advance to the Sweet 16 round will play at a pre-determined site. Then, the final match-up will be in Columbus, Ohio. Last year, South Carolina won the tournament and Mississippi State was the runner-up.
Connecticut Seeks Fifth Title
UConn is the overall No. 1 seed who are seeking their fifth championship in six years. Last season, the Huskies broke their 111 game win-streak during the Final Four by Mississippi State. UConn has continued to dominate this season. During the 2017-2018 regular season, Connecticut finished undefeated, winning all but two games by double-digit margins.
#DemandMore pic.twitter.com/DVlkeZi631

— UConn Women's Hoops (@UConnWBB) March 12, 2018
Connecticut will host St. Francis in the first round. Following, the Huskies are projected to face the defending champion, South Carolina, in the Elite Eight.
South Carolina enters with missing players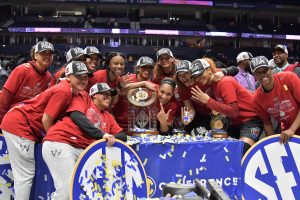 The 2017 NCAA Tournament Champion Gamecocks, are coming into the tournament with a few injuries from this season. South Carolina has lost guards Lindsey Spann and Bianca Cuevas-Moore both to season-ending knee injuries. In addition, the team has also lost games against Louisville, Mississippi State, Connecticut, Tennessee and Missouri. Their projected first biggest challenge will be against Connecticut during the Elite Eight. South Carolina was able to secure the SEC Tournament title earlier this season.