The Tennessee Volunteers caught the nation by surprise in 2018, going 25-8 a season after they finished 16-16.
They were projected to be a bottom of the barrel SEC team but they have been anything but. The Vols went from analyst predicting they would be the 13th best team in the SEC to being the 13th ranked team in the nation.
Dream Season On Rocky Top
Things could not have gone better for SEC coach of the year Rick Barnes and his team this season.
The Vols found themselves in the AP Top 25 for 14 straight weeks, silencing critics from the jump. The 2018 campaign began with the Vols defeating No. 16 Purdue, a team that went on to finish 28-6 on the season.
Not only was Tennessee successful during non-conference play but they also took care of business in the SEC. The Volunteers went a perfect 3-0 against rivals Florida and Kentucky in conference play. With their 13-5 conference record, Tennessee brought a SEC regular-season championship back to rocky top.
SOUTHEASTERN
CONFERENCE
CHAMPIONS pic.twitter.com/9aEVM2E2Yg

— Tennessee Basketball (@Vol_Hoops) March 4, 2018
The success carried over into the SEC tournament as they made it all the way to the conference championship game. The Vols fell just short, losing 77-72 to Kentucky in the final game.
Unfinished Business
Tennessee will attempt to continue shattering expectations as they are set to play Wright State in the first round of the NCAA tournament on Thursday.
The Vols will have to rely on players such as Sophomore Grant Williams. Williams has taken the next step since receiving SEC All-Freshman team honors last season. He led the team in scoring with his 15.3 points per game.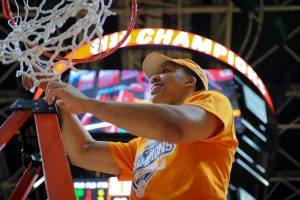 A player to watch out for as the tournament progresses is Admiral Schofield. The Junior forward has been a big contributor all season and showed his importance in the SEC Championship game. The veteran scored 22 points against Kentucky, making four three-point shots in the process.
The Vols will try to keep their dream season alive Thursday at 12:40. The first round match-up between Tennessee and Wright State can be seen on TRUTV.