Saturday's annual Orange and Blue Game offered a great opportunity for players to not only make an early impression on the Gator Nation, but it also gave them an important taste of what type of environment to expect under Dan Mullen's tenure.
53,015 attended on Saturday and watched the game under the comfortable 85-degree weather. Mullen said after the game that these type of settings will only help his team prepare for the season.
Game Recap
Throughout the game, a 35-30 Orange Team victory, Mullen would be standing right behind the quarterback and constantly chatting with officials and reporters.
While the first-year Gators' coach will be on the sideline come August, for the most part, he was pleased with the way both quarterbacks moved the ball. He also acknowledged that he wants to see them perform at a more consistent level.
Key Role for Former Players
It would be easy to draw plenty of early conclusions after today, but the reality is Mullen and his coaching staff aren't looking to finalize a depth chart anytime soon.
Instead, Mullen says he wants his players to "have fun." Former players Lawrence Wright and Travis McGriff both came out of retirement to catch a touchdown pass in the first half.
It's worth nothing that on both plays the defenses were intentionally not covering the Gator legends. But Mullen bringing former players back to the fold is nothing new.
Sophomore defensive end Antonneous Clayton said that Mullen has invited former players to practices on numerous occasions.
Mullen sees repairing the football culture at The Swamp as one of the first steps in building a championship program.
He believes young players like Clayton, Feleipe Franks, Kyle Trask and many others will benefit from being around players with championship pedigree.
While it's looking likely that Franks will head into the regular season as the Gators' starting quarterback, that wasn't necessarily the focus of Saturday's game.
Franks went 8 for 12 on the day to go along with two rushing touchdowns. On one of them, he showcased his athleticism by ripping off a defender for a 60-yard run.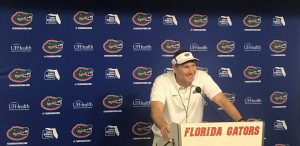 The excitement and emotion that prompted Franks to punt the ball into the stands after that is what Mullen said he was most happy with.
"I don't know if it would've been a penalty for that," Mullen said. "But I'm happy to see the guys having fun with it."
Players, coaches and the Gator Nation will need to see more of that type of emotion in order to be successful under Mullen.