On Wednesday, the National Football League enacted a national anthem policy that will go into effect for this upcoming season.
Policy Specifics
The NFL approved the rule that will require team personnel, including players, to stand during the national anthem. Players will also have the option to stay in the locker room or "in a similar location" without any penalties.
Statement from NFL Commissioner Roger Goodell pic.twitter.com/1Vn7orTo1R

— NFL (@NFL) May 23, 2018
This change is a direct response to the wave of on-field protests demonstrated over the past two seasons.
Colin Kaepernick, who is currently unemployed by the NFL, is the face of the movement that has sparked controversy on both sides of the argument.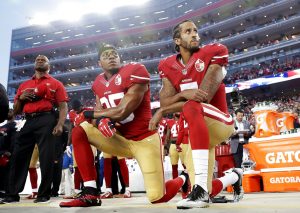 Although there have been threats of companies pulling their advertisements and fans boycotting, the league's real concern may be with President Donald Trump. According to a Bleacher Report article, one team source said the NFL is "terrified" of Trump.
NFLPA and Player Reaction
The NFL Players Association responded immediately to the new policy. The union released a statement via Twitter, which voiced support for the players and their involvement in their communities.
— NFLPA (@NFLPA) May 23, 2018
Cleveland Browns quarterback Tyrod Taylor also expressed disdain for the lack of player involvement in the creation of this policy.
In a press conference announcing the new rule, Goodell dismissed the notion that the league did not consult with players. Goodell told reporters on Wednesday that the NFL spoke with players regarding their position on the protests.
Johnson and York Respond
San Francisco 49ers owner Jed York said he abstained from voting, but he said all teams "that voted on it voted affirmatively." According to Bleacher Report, however, there was no official vote to approve the policy.
Christopher Johnson, chairman of the New York Jets, told Newsday that he supported his players right to protest. Johnson also said the Jets will pay any fine issued by the league if someone chooses not to stand during the anthem.
What's Next?
It will be interesting to see whether the NFLPA has a legitimate case in challenging the league's new policy. Another thing to keep an eye out for is how much the NFL will fine teams for not complying with the rule. Finally, for more on the upcoming NFL season, stick with ESPN 98.1 FM – 850 AM WRUF as the season draws closer.