After dropping a heartbreaking loss to the University of Kentucky last Saturday, the Gators are looking to a few bright spots on the roster to come out with a win against Colorado State. The wide receiver core will be heavily depended on this weekend as they have been making strides within the offense. No person knows this better than Co-Offensive Coordinator and Wide Receiver Coach Billy Gonzales. Coaching for the orange and blue is nothing new for Gonzales. He previously coached for the Gators from 2005 to 2009.
Coach Gonzales Talks Receivers
After Tuesday night practice, Coach Gonzales said how the offense is adding depth to the wide receiver position and developing a larger core of receivers.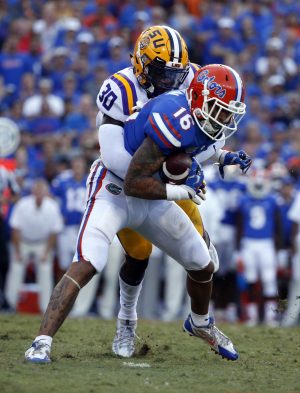 One of the standouts at the receiver position is redshirt junior, Van Jefferson. He has been reliable for the offense during the first two games of the season. During those contests, he has recorded six receptions for 65 yards including two touchdowns. Complimenting Jefferson on the field is junior Freddie Swain.  While the offense could only muster up 16 points against Kentucky, he was able to provide a bit of a spark with three catches and one touchdown.
Gonzales tends to have a "next man up" mentality when it comes to choosing the receivers for each game. But, that decision isn't made on game day. It's a process that takes place each week between games. Choosing the receivers to play goes beyond their performance stats wise. Coach Gonzales is attempting to keep a rotation of receivers for every game. Instead of depending on one or two receivers, he believes that rotating a group can keep the defense guessing when it comes to defending the passing game.
Game Info
The Gators are looking for a bounce-back win against Colorado State. As usual, it is all hands on deck, but the wide receivers look to lead the charge this Saturday against the Rams. Kickoff is set for 4 p.m. at Ben Hill Griffin Stadium.