Prepare for a rowdy weekend in Duval County! The Jacksonville Jaguars are hosting the New England Patriots in an AFC title rematch. This is one of the biggest games Jacksonville will have at home this year. Both teams are ready to play in this exciting week two matchup.
"We could be talking about a lead dog in the AFC."

Video: @GMFB pic.twitter.com/UXpmlpCTEt

— #DUUUVAL (@Jaguars) September 13, 2018
Jaguars Seeking Revenge
Coming off of a road win against the NY Giants last week, the Jaguars prepare to serve up some sweet revenge to the Patriots. In the AFC Championship game last January, the Jaguars were in the lead 20-10 starting the fourth quarter. Unfortunately, they could not hold off Brady and his squad, ultimately losing the game 24-20. This is not the outcome they want or expect for the upcoming game.
A 20-6 victory over Jacksonville in the 1996 AFC title game.

This week's memorable moment. #TBT pic.twitter.com/sZ1cKDDtre

— New England Patriots (@Patriots) September 13, 2018
Patriots Looking to Repeat
As New England reflects on several AFC Championship victories against Jacksonville, they still have to prepare to face a team that is very eager to
see their downfall. Defeating Houston 27-20 at home last week, the Patriots know what they're getting themselves into. "Their home game, home opener, they're going to be fired up. I'm sure they've circled this game on the offseason.They're going to try to punch us in the mouth" Patriots Safety Devin McCourty said.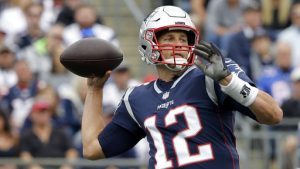 Players to Watch
There will be a lot of talent at EverBank Field on Sunday. For the Patriots, Tom Brady went 26-39 for 277 yards and three touchdowns, defeating the Texans last week. Rob "Gronk" Gronkowski had seven receptions for 123 yards and one touchdown.
Jaguars cornerback Jalen Ramsey, however, doesn't fear Gronk. On the field, he's a competitor and one of the most outspoken players in the league.  "To respect the game you have to play it fierce, I don't believe on having friends on the field. Football is not a game meant to be played being nice to each other and all that, like Kumbaya" Ramsey said.
Also for the Jags is Central Florida native Blake Bortles went 18-33 for 176 yards and one touchdown. Expect to see Brady and Bortles go head-to-head.
Game Time
Watch the Jacksonville Jaguars take on the New England Patriots on Sept. 14 at 4:25PM ET on CBS.