What better way to kick off the 2018 MLB postseason than with a five-hour, 13-inning dual in the National League Wild Card game? The Colorado Rockies extended their postseason run after taking down the Chicago Cubs last night 2-1 at Wrigley.
According to an article written by ESPN Staff Writer Bradford Doolittle, this NL wild-card game broke a lot of records.
"Longest postseason game in Wrigley Field history," Doolittle wrote. "Longest win-or-go-home game ever."
Game Recap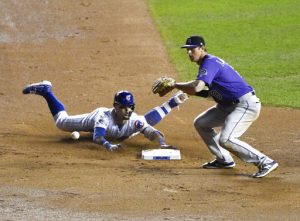 The Rockies were the first to get on the board with a sacrifice fly from third baseman Nolan Arenado. Arenado's hit drove in Charlie Blackmon and the battle was on. However, the one-run lead held for almost the whole game, until the 8th. The Cubs finally answered back with Javy Baez two-out double to tie up the game.
Again, the game gridlocked and the 1-1 score held until Rockies' catcher Tony Wolters came to the plate in the 13th. Wolters smacked a single to center, which drove in Trevor Story.
Heading to the bottom of the 13th, the Rockies sent Scott Oberg back out to the mound to wrap this eventful game and he delivered. Oberg retired struck out Terrance Gore, Baez, and Albert Almora Jr. 
The final score was 2-1.
After the game, Wolters commented on his RBI single that led the Rockies to victory.
"The guys that play every day, I want to do something for them," he said. "They're grinding every day and when I get put in there, I expect myself to do my job."
In the opposing clubhouse, the Cubs were dealing with the reality their postseason run was over. First baseman Anthony Rizzo shared, "I can't be more proud of this team for contributing in every single different way we did."
Pitching
Getting the start for the Rockies last night, was left-handed pitcher Kyle Freeland, who boasted a 2.85 ERA this season. Last night, he went 6.2 innings and only gave up four hits.
Taking the mound for the Cubs was veteran pitcher Jon Lester who went six frames and gave up one run on four hits.
What's Next for the Rockies?
Now, the Rockies will head to Miller Park in Milwaukee to face the Brew Crew for the best-of-five NL division series. This series begins tomorrow at 5:07 p.m.
#Rocktober rolls on!

The Colorado Rockies are going to the Division Series! pic.twitter.com/s6N6LD9f1P

— Colorado Rockies (@Rockies) October 3, 2018
Coming into this series, Arenado leads the Rockies in home runs, batting average, and RBI with 38 HR, .297 ERA, and 110 RBI. One player leads all these categories for the Brewers as well and he's been making a quite the name for himself over the last few weeks. Christian Yelich leads the Brewers in HR, BA, and RBI with 36 homers, 0.326 BA, and 110 RBI.