This is a matchup 65 years in the making.
The undefeated No. 13 Kentucky Wildcats make their way into College Station for a showdown with the Texas A&M Aggies.
"They're dominating teams."@UKFootball is a legit SEC East contender. https://t.co/SyNOtl7Z5i

— SEC Network (@SECNetwork) October 3, 2018
Going into the Way-Back Machine
Both squads have only met twice in their entire histories before this weekend. The years they did? Back-to-back bouts in 1952 and 1953.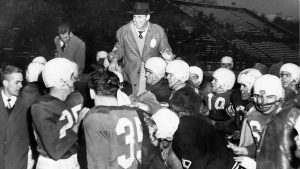 The coach for Texas A&M was Raymond George while Kentucky's head man was the one and only Paul "Bear" Bryant. The head coaches who will be on the sideline for both teams were not even alive during this time.
That 1952 faceoff was Kentucky's last Kyle Field appearance. They escaped College Station with a 10-7 win. A&M got them back one year with a 7-6 win in Lexington.
Here are some anecdotes about the last time they faced off:
Dwight Eisenhower was in his first year as President of the United States.
John Lennon and Paul McCartney were 12 and 11 years old, respectively.
Bobby Layne, Doak Walker and the Detroit Lions were in the middle of their journey toward a repeat NFL title.
White-Hot Wildcats
Kentucky is 5-0 for the first time since 2007 and 3-0 in the conference since 1977.
Mark Stoops said his team is taking it one week at a time. He said it's about continuing to move forward and improve.
Stoops on keeping the focus:
Kentucky will be in a hostile environment for just the second time this season. They'll be in front of 100,000 strong in College Station. Stoops said it's all about staying composed.
Playing in hostile environments: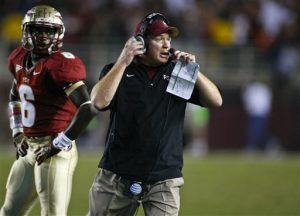 Stoops ran the defense and defensive backs under Jimbo Fisher 2010-2012. He said Fisher taught him how to build "an SEC team." He still implements those lessons to this day.
It's been six years since Stoops had to coach against Fisher in practice. But, he said he sees similarities in terms of how Fisher's team possesses the ball and sets up teams to go after them later.
"He's just not one of those guys who just calls plays," he said. "He has a rhyme and a reason for everything he does, and you better hold on because he's going to attack you."
Familiar Faces
Fisher had plenty of praise for Stoops's team on the SEC coaches' on offense and defense.
Fisher on Wildcats' offense:
Fisher said the Wildcats rusher the passer and play the run well. He credited Stoops for the team he has put together.
"We'll have our hands full," he said. "We'll need to play a great game."
He sees similarities in the characteristics of Stoops's defense, but they are different in terms of the schemes being run. Fisher said Stoops ran more of a 4-2-5 defense at Florida State as opposed to a 3-4 while at Kentucky.
He knows the Aggies will have a tall order as Stoops loves to bring pressure and Fisher's team tied for seventh in the nation in sacks allowed
"Even though they may only bring four guys on a play," Fisher said. "You have to account for seven and eight constantly."
Similar defensive characteristics:
When hiring him at Florida State, Fisher said he hired him on the spot. He hired Stoops based on what he saw coaching against him and his incredible football background.
Come Saturday night, people will find out whether the student has become the master.