It's college football conference championship weekend and five of the championship games will feature ranked matchups. Among them is the Big 10 Championship game, where the No. 6 Ohio State Buckeyes will face the No. 21 Northwestern Wildcats.
The Buckeyes, who had a slow start to the season, are now in a position to potentially reach the college football playoffs. The Wildcats, on the other hand, will look to pull off the upset.
Ohio State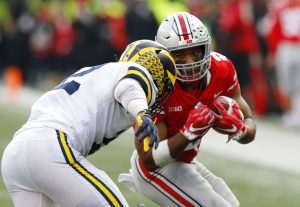 The Buckeyes are going into this match as 14-point favorites following their commanding 62-39 win over Michigan last weekend.
After an uncharacteristic start to the season, and a big loss to Purdue in October, Ohio State has managed to turn their season. With a win this weekend, they could see themselves in the College Football Playoff picture.
It seems as though the Buckeyes are coming alive at the right time.
Quarterback Dwayne Haskins has had an impressive season, totaling 4,081 yards and 42 touchdowns with only seven interceptions. Against Michigan, who was lauded as one of the best defenses in college football, Haskins put up a huge performance with 396 yards, six touchdowns and no interceptions.
The Buckeyes offense also boasts a talented running back duo of Mike Weber and J.K. Dobbins. Weber has been averaging 5.8 yards per carry and Dobbins average is 4.7 this season.
With additional firepower from wide receivers Parris Campbell and K.J. Hill, Ohio State should give Northwestern's defense a big challenge this weekend, and its difficult to not see the Buckeyes scoring plenty of points.
On the other hand, the Buckeye's defense has struggled this season, averaging 25.8 points against and gave up 51 points in their overtime win to Maryland and 49 in their loss to Purdue. Under Urban Meyer, Ohio State is 6-3 in games on neutral ground.
With the playoff a possibility, the Buckeyes will be hungry for the conference win this weekend.
Northwestern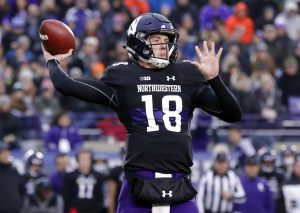 The Wildcats have defied all predictions this season in topping the Big 10 West division.
Northwestern started off the season 1-3, with losses to Duke, Akron and at the time No. 14 Michigan.
They then went on to win six of their next seven matches on their way to their first-ever conference division title and berth in the conference championship. The Wildcats have beaten three ranked opponents – Michigan State, Wisconsin, and Iowa.
The Wildcats, though, are 6-0 as underdogs this season. Their offense hasn't been the most productive this season, averaging a low 23.7 points per game this season. Luckily, Ohio State's defense has struggled this season as well. If they want to pull off the upset they'll have to stifle the Ohio State offense with their tough defense.
Their strength this season has relied on their defense who have averaged 21.7 points against per game. But Northwestern will have to put up a big performance against an Ohio State team that's averaging 43.3 points per game.
It'll be an interesting battle to see whether the Wildcats can hold the Buckeyes back, or if the Buckeyes prove too much for them.
When and Where
The Big 10 Conference Championship Game will be played at Lucas Oil Stadium in Indianapolis, Indiana on Saturday, December 1 at 8:15 p.m. You can watch the matchup on FOX.
https://twitter.com/LucasOilStadium/status/1068546905137913856