After suffering a heartbreaking loss to the Indianapolis Colts last week, the Miami Dolphins look to get back on track against the Buffalo Bills and make a late-season playoff push.
Has this team reached its ceiling?
With eight minutes left against the Colts, it seemed like the Dolphins would be able to get an upset at the Colts, but then poor play calling took over. The Dolphins had two drives in that span that took over just two minutes of clock.
The most questionable call came on a third-and-ten backed up inside the Colts' five-yard line and Dolphins coach Adam Gase drew up a draw play.
Andrew Luck would proceed to get the ball back and drive Indinanpolis into field goal range as the Dolphins saw Adam Vinatieri make a field goal as time expired. It seemed like 'Phins fans were watching the same playcalling they've seen since 2005.
As Ryan Tannehill sits at 30 years old, it's really time to question if the team should move on from him. With the head-scratching play calling from last week, fans must question if Gase had too much faith in his defense, wanted to keep the defense on its toes or just had little trust in its quarterback.
Whatever the answer is, Tannehill and co. are going to have to step up in the final full month of the regular season.
Injuries have been a problem all year for the Dolphins who lost two starting offensive lineman and speedy receiver Albert Wilson for the season. On top of that, Tannehill has missed 25 games the last three seasons with knee and shoulder injuries; as people say, the best ability is availability.
Favorable matchups the rest of the season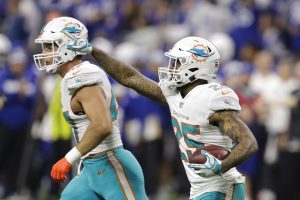 With two games against the Bills and home games vs. the Jaguars and Patriots making up four of their final five games, the Dolphins are in a position to rally out some wins.
It will have to start at home vs. the Bills as the Dolphins are 4-1 on the season in Hard Rock Stadium. In addition, Miami will need to lean on Kenyan Drake more who always seems to get limited touches but is effective with them.
Buffalo has beaten Miami in seven out of the ten past matchups so the Dolphins are going to need to do something different to keep their slim playoff chances alive.
This game should be a low scoring affair as the Dolphins rank second in interceptions and third in takeaways. On the other hand, the Bills have the best passing defense in the league and give up just under 194 pass yards a game.
The rest of the season will be a big test for both the roster and coaching staff of a shaky Dolphins team. Making the playoffs, especially at this point in the season, could go a long way for Tannehill and Gase.