They meet again. The seventh-ranked Michigan Wolverines face the tenth-ranked Florida Gators in the Chick-fil-A Peach Bowl. This is the third meeting between the two teams in the last four seasons. Michigan has owned Florida in each of those meetings, winning all three of them convincingly.
Michigan comes into Atlanta for this New Years Six matchup wounded. They're coming off an embarrassing loss to bitter rival Ohio State to end the regular season. The beat down to the Buckeyes cost Michigan a trip to the Big 10 Championship and a spot in the College Football Playoff.
https://twitter.com/UMichFootball/status/1069323515260735488
Rally Back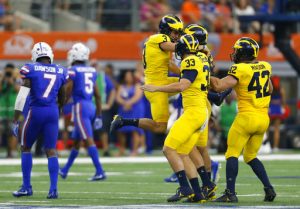 This isn't an unusual spot for Michigan. In 2016, Michigan went into the Ohio State game ranked third in the country. A win against the No. 2 Buckeyes would've punched a ticket to Indianapolis for the Big 10 Championship and increase the chances for a playoff berth.
Unfortunately for Michigan, they fell in double overtime to their bitter rivals 30-27 and was eliminated from playoff contention. They ended up playing in the Capital One Orange Bowl against another Florida school, Florida State. Michigan would lose the bowl game 33-32.
The 2018 season almost mirrors the 2016 season. Michigan has to recover from a tough loss to Ohio State in a prominent bowl game, but not the one they envisioned for themselves.
Michigan head coach Jim Harbaugh says his team is resilient and will bounce back.
Familiar Foe
Fans on both sides were hoping to see another opponent in their bowl game. Instead, the Gators and Wolverines will be facing off for the third time in four seasons. Michigan has dominated the series recently, winning both of those meetings. They have done so in dominating fashion. Michigan has outscored Florida 74-24 in those wins.
Harbaugh says his team is very familiar with the players on the opposing sideline.
Initial Thoughts
Michigan hasn't started game preparations for Florida but Harbaugh has been impressed with what he sees from the Gators.
Harbaugh says Florida is a very talented team.
The only new feature to Florida-Michigan is the presence of first-year Gators head coach Dan Mullen. Harbaugh admits he doesn't have a lot of experience personally with Mullen.
However, Harbaugh gives the Florida coach a lot of respect.
No McElwain Bowl
When it appeared this matchup was a possibility, some Gator fans were excited at the chance of facing former head coach Jim McElwain, who served as the wide receivers coach for Michigan.
This dream was snapped when it was announced McElwain will be hired as the head coach at Central Michigan. McElwain won't coach for Michigan in the bowl game.
Harbaugh expressed praise for his former assistant.
Kick-Off
Michigan and Florida will face-off once again this time the setting will be in Atlanta. The Gators and Wolverines kick things off in the Chick-fil-A Peach Bowl Dec. 29 at noon.