University of Florida Athletic Director Scott Stricklin was a guest this Tuesday on ESPN 98.1 FM 850 AM WRUF's Sportscene with Steve Russell radio show.
He spoke about a variety of subjects, including an upcoming new look the Gators will have in their athletic facilities. There will be a lot of changes to Florida's campus in the near future.
On the southwest side of campus, the new baseball stadium is under construction near the softball and lacrosse fields. Construction has already started and the project is expected for completion in the summer of 2020.
After that operation, McKethan Stadium will be cleared out to make room for the new football training facility. This will cost $85 million and it will serve as a place for the football team to work out, but also serve as a dining hall and recreational space for all student-athletes.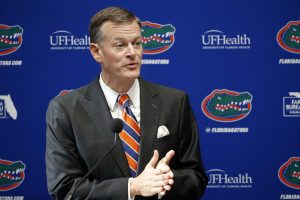 Exciting New Projects
The new training facility will also be home for the football team and coaching staff on a day-to-day basis. The locker room and coaches office will also be there. The locker room at Ben Hill Griffin Stadium will be a game-day facility once the new structure is completed.
The tennis courts have also seen some recent renovations, but more could be on the horizon in order to accommodate the fans sitting during day games in the hot sun.
Many improvements in the Gator sports facilities are due in large part to Stricklin's efforts. In the following year, Florida's campus is going to look a lot different. With 21 teams at UF, Stricklin does have his plate full but his new plans and ideas are aimed not only for the improvement in athletics but also to enhance the experience students and alumni can enjoy.