Baseball has been apart of Lance Minson's life practically since he was born. But around age 11 or 12, he found himself becoming fatigued by the game. So, he decided to take a step back and turn to another sport he enjoyed playing while he was younger to help keep that even balance. This sport was Golf.
Life on the greens
Growing up on a golf course, Minson said he would always be out on the fairway playing for fun. It wasn't until middle school that he found himself starting to enjoy playing at a more competitive level. This included participating in tournaments.
Once he started walking away from these competitions victorious, Minson said he finally began to get an idea of how good a player he could be.
Playing in these matches also helped him get more experience for what was to come in the near future.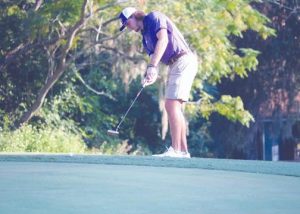 "I always planned on playing high school golf," he said. "So I just used it (the tournaments) as preparation."
Minson has enjoyed his share of success on the course. But, as with any sport, this accomplishment doesn't come without its challenges.
"A lot of the times, my main problem is one area of my game is off that day," Minson said. "My driving may be on, my wedges, my irons may be good, but I just can't make a put."
"It's mainly about just finding what's on and what's off and playing around that," he said.
When it comes to Minson's personality on the course, coach Shayne Barber said it's "extremely relaxed."
"He's the one that as a coach, I don't feel like I ever have to watch him necessarily, because I know he's going to have fun, play well, and not let a bad shot get to him, " he said.
Swapping his clubs for a bat
While baseball presented some roadblocks for Minson, out of the two sports, he has played this the longest.
"I've always done baseball," he said. "All the way from Tee-ball to machine pitch [and] kid pitch."
Similar to golf, Minson participated in numerous baseball tournaments when he was younger. He started out competing mostly in Florida, but by middle/high school, he began traveling to different states across the Southeast to play.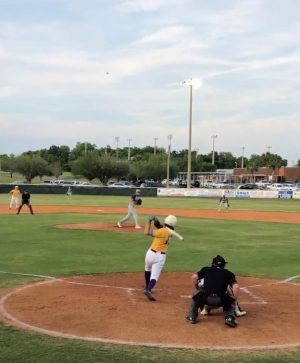 Minson has experience with both first base and outfield, but more often than not, he said most of the time he would be placed at first because of his height.
Once in high school, he started getting experience in the outfield. And after going through some difficulties in the beginning, Minson said he started to get better and better as time went along.
"I like playing outfield over first base because I feel like I'm more mobile," he said.
Columbia baseball coach Brian Thomas said Minson's character on the baseball field is similar to how he portrays himself on the golf course.
"He's the quiet assassin guy," he said. "He leads more through his actions than he does vocally."
Budgeting his time for both golf and baseball, in addition to studies, is something Minson has also handled well since his freshman year, Thomas said.
Playing the game of baseball has not only given Minson opportunities to see and experience different parts of the country, but also a chance to build relationships with teammates. One of his favorite memories was going to Cooperstown, New York when he was 12.
District champions
It had been five years since the Columbia men's golf team last brought a district championship back to Lake City. That was until Monday, as the Tigers left Panama City winners of the District 2-2A Tournament.
For Minson, he knew coming into the season this team had a shot at the title. So accomplishing those goals made it all worthwhile.
"It felt really good whenever I found out we won," he said. "Going to a new district we knew we had a really good chance, and actually delivering on it felt really good."
Barber echoed these same statements, saying having the chance to bring a district championship back to this program and town was a great feeling.
"We never won it when I played, and we had a really good team. So for them to go out and do it, I know it was fun for them, but it was also extremely satisfying for me," he said.
The Tigers will look to keep the momentum going into next week, as they head west once again. This time to Pensacola, for the Region 1-2A Tournament.