Senior Alyssa Baumann noted after the NCAA Regional in Athens, Georgia, that Regionals can be harder than the NCAA National because there is not as much excitement; teams don't win titles at Regionals, so it is harder to get as motivated to compete at a high level, and teams can suffer because of that. As the Florida Gators entered the National Semifinal, they needed to avoid a similar situation.
The National Final was a mere 24 hours away, the meet where a national champion will be crowned. However, the Gators had not booked a ticket yet; Florida needed a top-two finish at the National Semifinal on Friday, April 16, to advance. The Gators would compete against Michigan, Cal. Berkeley and Minnesota; after another up-and-down performance, Florida did just enough to secure a spot in the  National Final with a score of 197.4375.
Struggles On Bars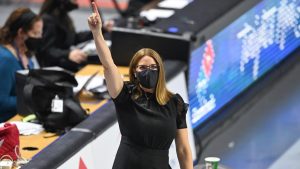 Florida opened the meet on the uneven bars, an event that the Gators thrived on in Athens. Sophomore Payton Richards opened the lineup, scoring a 9.775, and freshman Ellie Lazzari followed her up with a score of 9.8500. Senior Megan Skaggs performed next, unsurprisingly sticking the landing and earning a team-highest 9.8875. Junior Savannah Schoenherr then scored a 9.8500, and fellow junior Trinity Thomas provided a 9.8750.
Freshman Gabrielle Gallentine anchored the rotation, but lost her composure and fell off of the bars and slipped on her landing. Her score of 8.5500 meant that Richards score of 9.775 would have to count; this resulted in the total score for Florida being 49.2375. With a score that ended in last place after the first rotation, the Gators would need a kickstart in the second rotation to climb back into one of the top two spots. Thankfully for the team, the beam was up next.
"It was really great to see Trin' out there," Rowland said. "She's done a fantastic job staying in shape and doing whatever she can in the gym to keep her mind strong. I know this team is so proud of her, as I know she is of the team."
Clutch Performance on Beam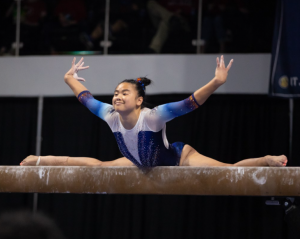 The second rotation did not start well for Florida; Richards opened the lineup once again, this time on the beam, but a fall off of the plank dropped her score to a 9.0750. Entering the event with the lowest score in the meet, the Gators needed to rebound quickly. Skaggs got the rebound started, matching her bars score by earning a 9.8875. Lazzari improved upon her previous score, now scoring a 9.8750. Baumann made her first appearance of the day in the fourth spot in the lineup; an overall great routine was blemished by one balance check, and Baumann left with a score of 9.8250.
"To have a fall on our first one out, and the other five just do a great job and be normal, and do what they know how to do," Head Coach Jenny Rowland said. "That's what we did on all the events. We had each other's backs, and just really grateful that they kept fighting."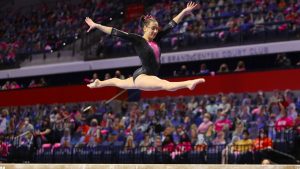 Th0mas followed the senior, and in her first beam performance since February 26, the junior scored a 9.9125. The lineup was anchored by junior Leah Clapper, who scored a perfect 10.0 on the beam on February 19. She did not repeat this score, but her score of 9.8875 was enough to replace Richards' score from earlier, and catapult the Gators into second place in the meet. Michigan still led Florida by a half of a point, but the Gators led California and Minnesota; now, the Gators needed to maintain that lead.
Floor Lineup Shines
"They were gritty, and just persevered on top today."-Head Coach Jenny Rowland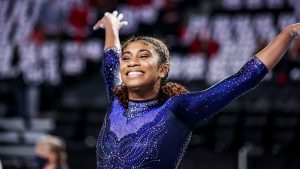 Opening the third rotation for Florida was Skaggs, who earned a 9.900; Richards performed second, earning a 9.7500 after stepping out of bounds in her routine. After Richards' lower-than-normal score, the pressure was once again on the rest of the lineup to carry the load. The Gators did just that. Lazzari ignited the momentum, scoring a 9.9125, and the next three Gators carried the energy forward. The final three gymnasts in the lineup were Thomas, Baumann, and senior Nya Reed; every single one of them earned a 9.9250. With another great lineup under its' belt, Florida had solidified its' place in second. While the Gators still trailed Michigan by .2620, they led third-place Cal by .2850. All that was left was to bring the meet home on the vault, an event that caused issues for the team in Regionals.
"It [the floor lineup] was pretty hype," Reed said. "When you sit there, and you're in a rotation and you're at the end, and you see all your teammates going up and doing what they're supposed to do, you just enjoy it more."
Closing on Vault
"I know that we're capable of anything," Junior Nya Reed said.
Baumann opened the final rotation for Florida, her score dropped by a small slip to 9.7500. Lazzari followed her up with a 9.8500, and Skaggs marginally improved upon the previous score by earning a 9.8750. Schoenherr, who was named an All-American on the vault, had an uncharacteristic trip-up on her vault; this lowered her score to a 9.6125. Finishing off the rotation were Reed and Thomas; Reed, who had major problems with her vault at Regionals that included multiple balks, redeemed herself with a 9.900.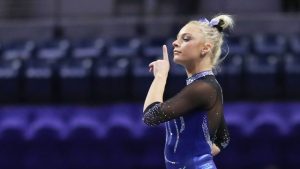 Thomas anchored the lineup with a 9.8500, and all the Gators had left to do was watch the rest of the opponents finish their lineups. Michigan, finishing on the bars, finished ahead of the Gators with a score of 197.8625. However, Florida's score of 197.4375 was just enough to edge Cal, who fell just .075 away from the Gators; with all of the scores in, Florida was heading to the National Final.
"It was nerve-wracking," Rowland said. "That's what I love, I love that I feel like I'm going to get sick, I love the joy. I love the highs and lows of coaching, of helping these amazing women navigate their emotions and continue to fight and learn what it means to be a team."
What's Next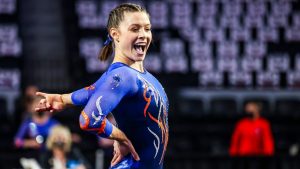 After Michigan and Florida secured tickets to the National Final with top-two finishes, the teams will look to the evening session tonight to see which other two teams will meet them on Saturday. The NCAA National Final will air on ABC at 3:30 p.m.
"We're going to take our step forward and we're going to do it all over again," Rowland said. "We're just going to have the most fun ever. We've got nothing to lose, and we're just going to lay everything out there tomorrow."