By Gabriella Vitale and Ellie Shreve
The energy was high on Friday night as the Buchholz Bobcats took on the Santa Fe Raiders. Buchholz, just coming off of a loss to Columbia, was eager to make a comeback. The Raiders were feeling confident entering the game after coming out on top in their last match against Buchholz with a 49-46 victory. After a strong first defensive quarter for the Bobcats, a lack of defense and missed opportunities cost them the game. Buchholz fell behind Santa Fe with a 48-51 loss. 
Strong Defensive Start 
Buchholz opened the first half playing their best defense of the game. After a slow start to both offenses, Buchholz put the first two points on the board from a pair of free throws by #33 Gavin Hill.
Shortly after, Aamari Reaves swished a three-pointer with the Bobcats maintaining an 11-6 lead with 2 minutes left in the first quarter. Buchholz's aggressive defense was the highlight of this quarter, holding Santa Fe to 8 points.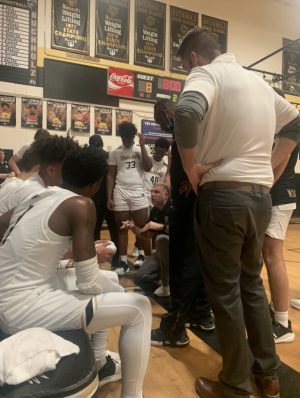 Head Coach Blake Golden pulled his team aside after the first quarter and spoke on their consistent defense and said, "take it up stronger [in the second quarter]". 
Missed Opportunities
Fouls and turnovers caused this game to take a complete turn. Santa Fe opened the second quarter putting up two, making two straight free throws, and then following that with two more free throws to take the lead 15-13.
Buchholz earned their first two points with 6:08 seconds left, tying the game 15-15. Head coach Golden was frustrated with the foul calls and said to the ref, "what can he do better [to not get called]."
A timeout was called with 5:18 left as coach Golden pulled his team aside to see if he could spark something in his players. #33 Gavin Hill answered with a 2-pointer, but that wasn't enough to take the lead. Santa Fe took over the second quarter leading 26-21 into the half.
A Hopeful Restart
During halftime, coach Golden told his team to have a high-low start and bring the pressure. Buchholz opened the third quarter stronger than the last, with a three-pointer from #14 Nate Muchnick. Santa Fe responded with a pair of three-pointers a minute apart, but #2 Antwon Mack picked up a rebound off the Raiders' missed shot and took it back for two. 
"Dubs 3!" Coach Golden shouted as the score started getting tighter, 36-34, Santa Fe with around a minute left.
The energy was high with the Bobcats' home-court advantage, and they were eager to win this quarter. Buchholz needed a three-pointer to take the lead, and #10 Colsen Orth answered with just that, a three-pointer swish to enter the fourth quarter on top 37-36. 
Colsen Orth scores a three bringing the third quarter to an end. Buchholz regains the lead 37-36. @buchholzbkb pic.twitter.com/vnk66Pgjlf

— Ellie Shreve (@ellie_shreve) January 22, 2022
Coach Golden had a few words with his team before going into the fourth quarter, "dial in on D, breathe boys."
A Tight Fight 
Buchholz held a tight game for the fourth quarter. #1 Tyler Gainey opened the fourth with a three-pointer, just before the raiders responded by making both their free throws. Santa Fe took the lead 41-40.
"Grind on possession!" coach Golden said as the Bobcats started to see a repeat of the second quarter.
Turnovers and fouls took a toll on the Bobcats as Santa Fe made their next free throw, 48-45 with 2:47 remaining. After a much-needed three-pointer by Daryus Boyd, Buchholz tied the game with 1:03 minutes left.
Daryus Boyd ties the game with one minute left in the fourth. @buchholzbkb pic.twitter.com/Fn8pCGEwCs

— Ellie Shreve (@ellie_shreve) January 22, 2022
Santa Fe made three of their next four free throws and took the lead 51-48 with 9.4 seconds left. With 7.1 seconds left, the Bobcats missed two straight three-pointers and dropped the game to Santa Fe, 51-48. 
Looking Ahead
Buchholz (9-11) will travel to Eastside (4-11) on Saturday at 7:30 p.m. in a non-district game. 
Coach Golden would like to see the Bobcats focus on replacing their hope with effort. The team will strive to have more of an edge on the court by playing tougher.
Coach Golden also commented on the successes of the team in tonight's game. The Bobcats fought hard to keep it close.