When it comes to selecting a walk-up song, most baseball players like to pick something to get them going. Whether it's rap, country, rock, or a different genre, they tend to be upbeat songs with lots of energy. However, if you attend an Oak Hall baseball game, you might be in for a surprise during the heart of the Eagles' batting order.
As junior Jack Kuzmicki approaches the plate, "Upside Down" by Jack Johnson plays on the loudspeakers. The song, originally written for the 2006 film Curious George, takes on a more pleasant and laid-back mood compared to a typical walk-up song. But do not let the gentle nature of the song fool you: Kuzmicki's style of play is anything but calm.
From a powerful swing at the plate to a strong arm both in the infield and on the mound, Kuzmicki has made his presence felt for the Eagles this season. He leads the team in hits (7), doubles (4) and RBIs (10) this season. With such a strong start to the year, it may come as a surprise to some that this is Kuzmicki's first season with Oak Hall. After living in Virginia his whole life, Kuzmicki moved to Florida this past year. Since then, he has already made a name for himself as one of the better baseball players in the Gainesville area.
An Early Connection To The Game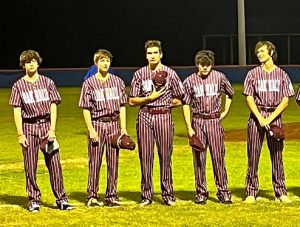 Kuzmicki took a liking to baseball early on in his childhood, as his family has had multiple connections to the support. One of his two older brothers, Adam, plays for the Stony Brook Seawolves, an NCAA Division 1 baseball program. He quickly followed in his brother's footsteps from a young age.
"As far as I can remember, I've always been playing catch with [my brothers], going to the cages, going to the fields and their practices," Kuzmicki said. "It's just something that's always been a part of my life."
As Kuzmicki began to train more often, he quickly realized the resources at his disposal. He has worked with multiple professional baseball players, both former and current, over the years at the R&D Baseball Academy. Kuzmicki realized just how much potential he had at the Virginia-based training center.
By the time Kuzmicki reached middle school, he had already begun making a name for himself. He joined the Virginia Stars baseball program in 2017. Two years later, he earned a spot on Team Virginia in the 2019 Perfect Game Series Classic. The Perfect Game organization describes the PG Series Classic as an opportunity "to bring together top-level talent from across the US." Kuzmicki's appearance in the tournament helped to cement his status as an up-and-coming star.
Settling In With The Eagles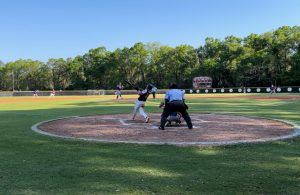 Kuzmicki spent the first two years of his high school career at Battlefield High School in Virginia. However, after moving to Florida, Kuzmicki had to search for a new school. His family eventually found Oak Hall, which quickly emerged as their best option. The promise of a quality education enticed the Kuzmickis into sending Jack to Oak Hall. Working with Head Coach Kevin Maris, son of MLB legend Roger Maris, helped make Kuzmicki feel even more at home.
"Academics is a huge part of my life. I know I want to do something engineering, so Oak Hall had academics going for them," Kuzmicki said. "It just so happened that Coach Maris worked here. He's a baseball guy… so it kind of feels like I've known him forever."
Kuzmicki has already impressed Maris in his first few months with the Oak Hall baseball program. He singled out Kuzmicki's willingness to improve as one of the factors in his early success with the team. He also noted how Kuzmicki has excelled in playing multiple positions as the season has gone on. Kuzmicki has served as a first baseman, third baseman, catcher and pitcher for the Eagles so far.
"He's been super coachable, very open to getting better every day out, and that's always a pleasure to have. That's an asset for an athlete to be able to be coachable," Maris said. "I don't like my players to be set in one position. I don't know how much he's played some of the positions I've been asking him to play, but he's really adapted well to taking a challenge and improving his game."
In addition to his strong offensive performance, Kuzmicki has turned in a strong outing from the mound as well. Three innings pitched, one hit, one run and five strikeouts. Eagles are holding on to an 8-1 lead midway through the third inning. pic.twitter.com/bRyZP4hrPS

— Jack Meyer (@jackmeyerespn) March 18, 2022
Kuzmicki has also already gained the love and respect of his teammates. He described his teammates as his "brothers", and it appears that the feeling is mutual.
"He's really fun to be around. At team dinners, he's always cracking jokes," Eagles freshman Brody Beaupre said. "He's just really a great teammate, always fun in the halls when you see him. He's a really good guy on and off the field."
Starting Off Strong and Never Looking Back
By the time baseball season had arrived, Kuzmicki was ready to officially kick off his tenure with the Eagles. Despite Oak Hall suffering a 12-7 loss in their season opener, Kuzmicki had an impressive debut. He picked up three hits (including two doubles) while driving in four runs. This performance set the stage for what has been a fantastic season at the plate for Kuzmicki.
He has maintained a .500 batting average, with most of his hits coming off powerful blasts into the outfield. He has also racked up numerous highlights as the season has gone on. From an inside-the-park home run to a clutch RBI double in the Eagles' closest game of the year, Kuzmicki has made exciting play after exciting play this year.
INSIDE-THE-PARK HOME RUN! Jack Kuzmicki with another big blast to the outfield, and this time he's able to make it all the way home in one try. Eagles lead 8-1 at the end of the second inning. pic.twitter.com/ivekKUbiD6

— Jack Meyer (@jackmeyerespn) March 18, 2022
KUZMICKI FOR THE LEAD! Jack Kuzmicki hits a powerful double to bring Jackson Beach home all the way from first base. Eagles have taken a 7-6 lead with no outs at the top of the seventh inning. pic.twitter.com/GmAFHjUePU

— Jack Meyer (@jackmeyerespn) March 17, 2022
Kuzmicki talked about how his perseverance and aggressive style of play have allowed him to thrive. He laughed as he discussed how his style of play differentiates from his brother's.
"My dad used to always tell me, 'There's two methods of flying. There's the airplane and the helicopter,'" Kuzmicki said. "My brother's the airplane: everything's perfect, you take off and glide right through the air. The helicopter beats the air until it gets in the air. That's how I play. Just keep going and keep going; if you're not swinging well, swing harder."
Taking It One Day At A Time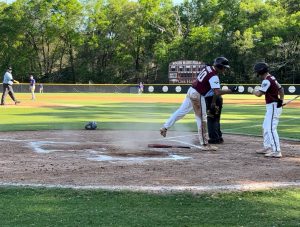 Despite his impressive performances on the field, Kuzmicki remains humble outside of his baseball career. In his free time, he likes to work with a 3D printer that his parents bought. With an interest in engineering, Kuzmicki loves to design things that he can "hold and use" himself. Kuzmicki follows the philosophy and the lyrics of his own walk-up song: "Who's to say what's impossible?" "Who's to say I can't do everything?"
When asked about possibly pursuing a career in baseball after high school, Kuzmicki was open to it. However, as of right now, he's just focused on getting better every day.
"It's hard to set an end goal," Kuzmicki said. "I just work at it day-by-day and see where it takes me."
Head Coach Maris has high hopes for Kuzmicki moving forward. With his positive yet humble attitude and his ever-growing skillsets, the future looks very bright for Jack Kuzmicki.
"The way he hits the ball, he'll easily get an opportunity to play at the next level. I think he can swing it with the best of them that I've seen," Maris said. "All the people around here really don't know who Jack necessarily is yet, but they will soon."