The Florida Gators have had their fair share of NFL players throughout the years. Standout players include Emmitt Smith, Jack Youngblood and Percy Harvin. In today's NFL, there are several recently drafted former Gators who have the potential to be future stars.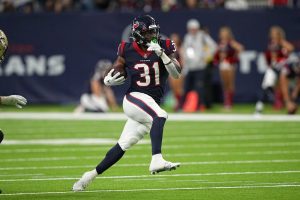 Dameon Pierce
Pierce is a rookie running back who was selected by the Houston Texans in the fourth round of the 2022 NFL draft. Although Pierce was not originally expected to take on a huge role with the Texans, he has impressed the NFL world and earned a spot as the lead back. Through the first 11 games of the season, Pierce has 788 rushing yards, which leads all rookies. He also has three rushing touchdowns in what is looking to be a fantastic rookie season.
https://twitter.com/BleacherReport/status/1579197814269046784?s=20&t=Dp4JgNuQ2yNg4f-P0MXuMw
Kyle Pitts
Pitts was drafted with the fourth overall pick in the 2021 NFL draft by the Atlanta Falcons. Expectations were high for the tight end, and he impressed immediately. In only his first season, he recorded 68 receptions on 110 targets. He also had over 1,000 receiving yards, a feat most wide receivers struggle to achieve. Pitts, achieving these numbers as a tight end in year one, makes this accolade even more impressive. Although his second season was cut short due to a knee injury, he had 28 catches and 356 yards through 10 games. These stats may not have matched his first year numbers, but he is proving to be the tight end of the future for the Falcons.
https://twitter.com/AtlantaFalcons/status/1581719827340836868?s=20&t=Dp4JgNuQ2yNg4f-P0MXuMw
Evan McPherson
McPherson was drafted by the Cincinnati Bengals in the 2021 NFL draft. He is a prime example of why teams should use a draft pick on a quality kicker. Not only did McPherson make 84% of his field goals on the season last year, but he was extremely clutch when the team needed him most. In the 2021 AFC Championship Game, the former Gators kicker drilled all four of his field goals on the biggest stage in the world, including the game winning kick in overtime. He also hit both of his field goals in the Super Bowl. This season, McPherson is continuing his success making 16/20 field goals while being a perfect 5/5 from 50 yards or more.
EVAN MCPHERSON SENDS CINCY TO THE SUPER BOWL. #NFLPlayoffs #RuleTheJungle pic.twitter.com/lcWku1eYpt

— NFL (@NFL) January 30, 2022
Florida will likely continue to produce NFL stars for years to come. For now, fans can sit back and enjoy the NFL highlights that the former Gators provide every Sunday.