Former Gators forward Keyontae Johnson is back on the floor after transferring from Florida in May. Let's take a look at what he's up to now in his basketball career.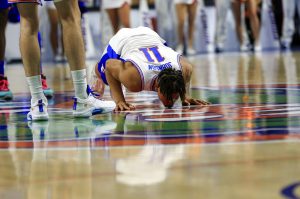 Johnson's Career with UF
The stage was set. Coming into the 2021-2022 NCAA men's basketball season, Johnson was the Preseason SEC Player of the Year. Fans were excited for their star player to take a huge leap from his previous season to the upcoming campaign. However, tragedy struck on Dec. 12, 2020, when Johnson collapsed in a game against Florida State. Johnson was immediately hospitalized and diagnosed with Acute Myocarditis, following the incident. Luckily, he was conscious of his surroundings after the incident.
Positive update: Florida basketball star Keyontae Johnson, who collapsed on court Saturday, is now in stable condition, breathing on his own and speaking with parents and doctors.

— Shams Charania (@ShamsCharania) December 15, 2020
Next Steps
Johnson was forced to sit the rest of the season and he would miss the 2021-2022 season. Heading into his final year of eligibility, Keyontae wanted one last chance to prove he can still compete at a high level. After being deemed ineligible by the Gators medical staff, he decided to enter the transfer portal in May. About three months after entering the portal, Johnson decided to take his talents to Kansas State, where the medical staff cleared him to play and chase an NBA dream.
Kansas State Season to Date
Following his transfer to Kansas State, he's continued to shine as a college basketball player. Through his first seven games as a Wildcat, Johnson is averaging 18 points per game and two assists, playing 32 minutes per game. These stats are all career-highs. He is also shooting a career high in three-point percentage and free throw percentage percentage to go along with 6.9 rebounds per game. If Johnson continues to have the fantastic season he's having, he has a chance to gain traction from NBA scouts around the league.
https://twitter.com/MarchMadnessMBB/status/1595609825651851264?s=20&t=9iI_dDaEusYE8YHWbZHzvg
Although his jersey colors are no longer orange and blue, most Gator fans smile watching Johnson shine on the court.