Hometown Hornets Defeat Rival Rams 52-51 in Overtime on Senior Night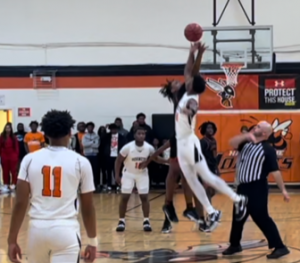 First Half
Standing room only for this game between rival schools. With the added layer of Senior Night, this matchup created an energetic and emotional environment, and the game delivered. Hawthorne, who lost the previous night to Columbia, came out of the gates on a mission defensively, amassing a 13-4 lead at the end of the 1st quarter. During the second, both teams traded 10 points resulting in Hawthorne retaining their nine-point lead at the break.
Second Half
After halftime, the Ram's offense came to life and they began to narrow the deficit. After shrinking the Hornet lead to five at the end of the third, Eastside continued to ramp up the intensity. They forced several turnovers and got easy baskets in transition as they took their first lead of the game. Hawthorne countered by getting more aggressive with the ball, driving it into the lane, and drawing fouls. Two Rams players including leading scorer Davion Pugh fouled out of the game. However, down by one Eastside senior Shelton Hall had a chance to take the lead at the line with two attempts. Despite hostile noise from fans, Hall drained both attempts. On the other side of the court Hawthorne star CJ Ingram drew a shooting foul, and he went to the line down by one. After making the first, Ingram missed the second thrusting the game into overtime.
Overtime
At the start of overtime, both teams milked the last sources of energy they had, but CJ Ingram again proved why he was the best player on the court. With a tie game at 10.7 seconds left he drilled a free throw giving the Hornets a one-point lead. After almost turning the ball over, Eastside coach "Pop" Williams called a timeout with 3.1 seconds remaining. The crowd stood to their feet for the final shot…
CJ Ingram Postgame interview
Hawthorne Coach Greg Bowie Postgame Interview
Hawthorne's record improves to 7-3 with a trip to the 17-6 Forest Wildcats in Ocala on Tuesday, Jan. 31. Eastside falls to 9-12 on the season. Next up for them is their final home game of the season against 17-5 Santa Fe Raiders also on Tuesday, Jan. 31.