A massive, multimillion-dollar renovation is in the works for Ben Hill Griffin Stadium at the University of Florida. UF Athletic Director Scott Stricklin hinted that it may be the most ambitious athletic facilities project in SEC history.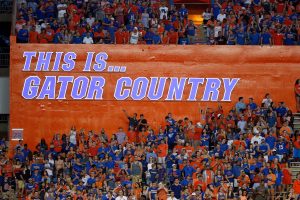 A Rich History
Originally known as Florida Field, The Swamp has undergone several renovations since its opening in 1930. What was at first a 22,000-seat facility has been expanded over time to its current 88,548-seat capacity.
In terms of capacity-alone, it's the largest stadium in Florida and the 12th largest stadium in the United States.
It now houses 180,000 square feet of office space for the UF Athletic Association and the University itself.
Big Changes
"This is going to be, by far, the most ambitious facility project that, not only the University of Florida's ever done from an athletic standpoint, but it might be the biggest in SEC history." – Scott Stricklin
It takes much planning and very careful thought to renovate a stadium as iconic as The Swamp. Two studies have already been done on the project, one initial-renovation study and a more in-depth second study that just wrapped up.
Stricklin estimates that the renovation will cost "a few hundred million dollars."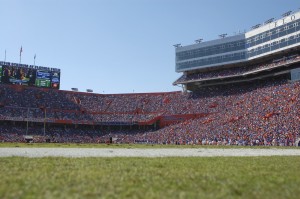 What's to Come
Stricklin made it clear this will not be just an ordinary renovation, but a project that will lead Ben Hill into the next 75 years.
"It's not going to be a new coat of paint and a couple of new video boards. It's going to be all of that, plus significant structural renovations." – Scott Stricklin
A few smaller, specific ideas are linked to the larger project. For example, Stricklin noted that a large weight room is housed in the south end zone of stadium. The goal would be to repurpose that space for stadium use. However, many of UF's Olympic sports use this space, so another weight room would need to be built elsewhere.
Another idea is to repurpose some of the office space currently in the staduim. Out of the 180,000 square feet of office space, the UF Athletic Association occupies half, while the university uses the other half. In order to use this space for gamedays, the relocation of these offices will need to be considered.
"We want it to be the iconic football stadium everyone thinks of, better than ever." – Scott Stricklin