With spring break just around the corner, the Oak Hall Eagles wanted to finish off the first leg of their season on a high note. On Friday afternoon, they did exactly that. In their final game before the break, the Eagles secured a 10-0 run-rule victory over the Saint Francis Catholic Wolves. The win moved the Eagles to 6-1 on the year.
Troy Freeman had his fingerprints all over Friday's game. In his fourth start on the mound this year, Freeman pitched a complete game shutout. In five innings pitched, he only surrendered one hit, two walks and zero runs. Freeman also tallied up a season-high five strikeouts.
Oak Hall's offense caught fire in the third inning and quickly put the game out of reach. Harrison Beach went 3-for-4 at the plate while racking up three runs, two RBIs and one stolen base. Jack Steen blasted out a sacrifice fly and a double to drive in three runs for the Eagles. Rounding out the offensive standouts, Gavin Jones finished the day with a pair of hits, while Aaron Akins walked away with a pair of stolen bases.
Friday's win also served as a successful "revenge game" for Steen and Darion Medley. The duo originally played for Saint Francis before transferring to Oak Hall in the offseason. Both Steen and Medley had their fair share of banter with their former teammates, but they also made it clear they were all business that day.
Troy Freeman Contains Saint Francis From The Get-Go
Both offenses stayed relatively quiet early on in the afternoon. Oak Hall took an early 1-0 lead on a single from Jackson Beach and an RBI double from Harrison Beach. Other than that, however, the Eagles could not get much going scoring-wise.
The subsequent batters in the first inning were sat down 1-2-3. In the second inning, Gavin Jones knocked in a single and Aaron Akins secured a run. Nevertheless, neither runner managed to score following a strikeout and a pair of ground outs.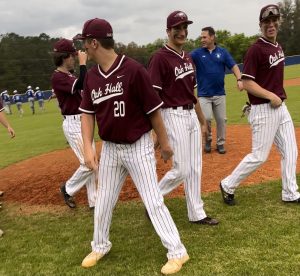 While the Eagles' offense started slow, Troy Freeman came out of the gates ready to go. He immediately picked up a line out and a ground out in his first two matchups at the plate. Each at-bat only took three pitches. Following a walk from the Wolves shortly after, Freeman struck out the next batter. Once again, it only took him three pitches.
Upon retaking the mound in the second inning, Freeman again made short work of the Wolves. After letting up a leadoff walk, he only needed eight pitches to secure three consecutive outs. Six of those pitches came on a battle at the plate that resulted in a strikeout. Freeman only needed one pitch to snag the outs in the other two plate appearances.
"I was just in the zone, pitching those strikes," Freeman said. "Especially strike-first pitches, [that] was really getting them a lot. They were getting under it, so I was throwing it high."
Oak Hall's Bats Come Alive In The Third Inning
With the Eagles hanging onto a 1-0 lead entering inning number three, they needed to find their rhythm in the batter's box. Fortunately, Steen came through to open up the floodgates. After a leadoff single for Harrison Beach and a hit-by-pitch on Jack Kuzmicki, Oak Hall had a pair of runners primed to go.
On just the second pitch he saw, Steen cracked a ball deep into center field. Despite being just a few feet away from clearing the fence, the ball remained inside the park. Steen, however, had still done his job. Both Beach and Kuzmicki scored on the hit.
Live from Saint Francis Catholic Academy, the Oak Hall Eagles have taken a 3-0 lead in the top of the third inning! After an RBI double from Harrison Beach in the first inning, Jack Steen blasts out a deep double to score Beach and Jack Kuzmicki. pic.twitter.com/1Z4fQ7laD6

— Jack Meyer (@jackmeyerespn) March 10, 2023
"The past couple of games… I was hitting balls good, but I was hitting balls foul," Steen said. "I was really trying to work the other way and work up the middle, and I think I did really well doing that today."
Two at-bats later, Neil Ruth chipped in with an RBI single into left to drive Steen home. After stealing second and reaching third on a throwing error, Ruth eventually scored on a passed ball. Freeman continued his efficient day in the bottom of the inning as well. This time, he sat down all three batters he faced on six pitches total. After three innings, Oak Hall led 5-0.
The Eagles extended their lead to seven runs in the top of the fourth. A pair of sacrifice flies from Jack Kuzmicki drove in Jackson and Harrison Beach, respectively. Oak Hall only recorded one hit in the inning: a line drive single into left from Gavin Jones. Ironically enough, Jones ended up stranded on base alongside Medley, who had walked two at-bats earlier.
Freeman's no-hitter came to an end in the bottom of the fourth following a two-out single for the Wolves. Nevertheless, he remained in control of the situation and forced a line out to left field just one pitch later.
Closing The Book On The Wolves In The Fifth
Entering the fifth inning, the Eagles needed three runs to reach the necessary threshold for a run-rule victory. Aaron Akins made it to first via a walk before stealing second base. He managed to advance to third following a dropped third strike in the next at-bat. Akins then scored on a fielder's choice from Jackson Beach, who somehow safely made it to first on the play as well.
After advancing to second on a Wolves infield error and stealing third, Beach scored on a line drive into left from his brother Harrison. Harrison Beach swiftly made it to third as well on a stolen base and a throwing error. He eventually made it home on his own following a passed ball. Oak Hall had now secured the 10-run margin they needed.
Beach-on-Beach action! Jackson Beach makes it on first via a fielder's choice that scored Aaron Akins. Harrison Beach then drives him home with a knock into left. Finally, the latter Beach makes it home on a passed ball. Eagles lead 10-0 with two outs in the top of the fifth. pic.twitter.com/5VkrtCaYIW

— Jack Meyer (@jackmeyerespn) March 10, 2023
"I was struggling before this game… Every time I went to the plate, I was trying not to strike out," Beach said. "This game, I was going up there and I was visualizing what I was going to do. It really helped me today."
Bottom of the fifth. Only three outs needed. Who else to close it out but Troy Freeman? Setting up on the mound one last time, Freeman ended up pitching what may have been his best inning on the day. Batter number one went down looking on strikes. Batter two grounded out on the first pitch he saw. Finally, batter three struck out looking. Game over.
Ballgame! Have a day, Troy Freeman! The Oak Hall ace pitched his first complete game of the season, only surrendering a single hit and no runs in the Eagles' 10-0 five inning run-rule victory. pic.twitter.com/PZiwhioK9p

— Jack Meyer (@jackmeyerespn) March 10, 2023
"We got an outstanding pitching performance from Troy Freeman," Eagles Head Coach Kevin Maris said. "He's maturing as a pitcher and a player. He's a year older, a year stronger, a year wiser, and it's paying off that he's putting it to use when he gets his chance to get on the mound."
Oak Hall will now have some time off before their next outing. They will return to Roger Maris Field on March 20 at 4:15 p.m., when they will host the Riverside Christian Wranglers.