The UEFA Champions League quarterfinals always features a slew of top-end teams pushing for club soccer's ultimate prize. Tomorrow's matchup between Manchester City and Bayern Munich could very well determine the tournament's champion, with each team pushing to prove themselves on the grand stage. This is truly a matchup that could go either way, with each team seeking a path to victory.
https://twitter.com/ChampionsLeague/status/1644672975478636544?s=20
How Manchester City Can Win
Manchester City are trying to put the UEFA Champions League fraud allegations to rest. Pep Guardiola's squad is one that constantly underachieves on the biggest stage despite their immense domestic success. A key moment came against Thomas Tuchel's Chelsea, where the juggernaut squad lost 1-0.
It was clear that Pep was doing his trademark overthinking going into that match. Guardiola benched star defensive midfielder Rodri in favor of Ilkay Gundogan, an unnatural fit in defensive midfield. The manager overall chose an offensively-minded formation, playing Kevin De Bruyne as a false-9 with attacking midfielders Bernardo Silva and Phil Foden trailing behind. City lacked a true central presence throughout the match, and ultimately lost the battle in midfield with a weak defense.
It's doubtful Pep overthinks his lineup like that again. The Spaniard not getting in his own way will be crucial to City's success in their matchup with Bayern Munich.
City will likely stick to their 3-2-4-1 formation, with Kyle Walker likely to start on the right flank covering Sadio Mane. Nathan Ake has been Guardiola's favorite on the left, while Ruben Dias could see time in the middle.
Rodri will start at one of the defensive midfield spots. Guardiola has taken to starting one of his defenders at the other defensive midfield opening, with John Stones likely getting the nod for experience.
Where Manchester City needs to focus is attack. City has the kind of offense that can overwhelm the best defensive teams- even Bayern Munich. Their five-man attacking front, spearheaded by goalscoring revelation Erling Haaland and arguably the most in-form left wing in the Premier League, Jack Grealish, have a chance to drown Bayern in goals.
If City can keep the pressure on, remain stout against Tuchel's trademark counter attack, and stay out of their own way, they should advance to the semifinals.
How Bayern Munich Can Win
New Bayern Munich manager Thomas Tuchel has an immense Champions League pedigree. Known as one of the best defensive minds and tacticians in global soccer, the manager has taken both PSG and Chelsea to the tournament's final, winning it with the London club. Pairing this defensive guru with the best defensive team in Germany is a match made in heaven.
Tuchel's Bayern is tasked with holding the line against the offensive juggernaut that is Manchester City. Stopping Haaland will be Tuchel's top priority, with stout center backs Dayot Upamecano and Matthijs de Ligt expected to take up the center of the pitch. However, defending will be no small task with City's plethora of scoring options.
Bayern seems to be figuring out their lineup under Tuchel. In his two games in charge, the squad has played a 4-2-3-1 and a 4-1-4-1, a departure from his standard back five. Tuchel's Bayern has been more offensive, which they've highlighted with five goals in two matches.
But City isn't exactly the kind of team you can just outscore. They can hang with anyone.
It wouldn't be shocking to see Tuchel switch back to this standard back five here. A defense consisting of Davies-Upamecano-De Ligt-Blind-Pavard is likely, with Joao Cancelo unable to play as he is on loan from City. Joshua Kimmich could also slot in at right wing-back.
Tuchel could deploy a false-9 with striker Eric Choupo-Moting out injured. The German manager often employed this tactic with Kai Havertz at Chelsea. Expect Thomas Muller in this role while Mane and Serge Gnabry start out wide.
This is what Tuchel's lineup could look like tomorrow with a 5-2-3 and with a 4-2-3-1: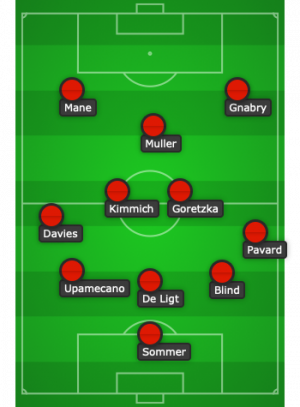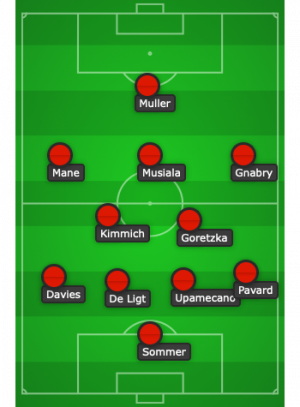 For Bayern to win, they'll have to hold the line. Tuchel shouldn't have any problem here, as he seeks to repeat his success from his 2021 matchup with Guardiola in the Champions League Final.
Final Verdict
Tuchel's Bayern will hold the line against Manchester City just enough to advance. Bayern Munich gets through the round on goal differential. Expect a cumulative score line like 5-4 pushing the German club to the semifinals.